exhibitions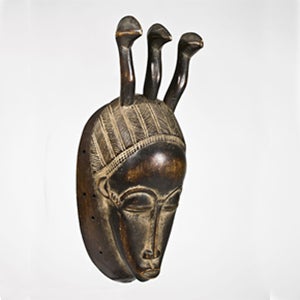 Masks of Africa: Classic and Contemporary
02/

04/

2024
-
04/
28/
2024
Masks of Africa: Classic and Contemporary
McNichols Civic Center Building, Second Floor, Boettcher Cultural Pavilion
Feb. 4, 2024-April 28, 2024
Featuring a selection of African masks from Bruce Heitler's vast collection, this exhibition showcases 30 masks from several indigenous African groups. Some of the masks on display are more than a century old. The pieces highlight the varied artistic styles culturally specific to each group of African indigenous peoples.
In addition to these traditional masks, Denver Arts & Venues invites contemporary artists to submit their proposals or existing artworks to be considered for display as a modern take on this ageless artform. If selected, these works will be showcased as companions to the historical masks on display. Artists may apply below.
Curator's Statement
The powerful expressiveness of the African mask is undeniable. The artform has influenced artistic movements such as Cubism, Fauvism and Expressionism. Visitors to the exhibition will not only be moved by the beauty of this traditional artform, but impressed by the contemporary works submitted in response to this exhibition. There is something about the human element of the masks that draws us to them. Masks serve to both conceal and reveal, instilled with intense psychic power and deep human experience and emotion.
Máscaras de África: Clásicas y contemporáneas
Edificio "McNichols" del Centro Cívico, segundo piso, Pabellón Cultural Boettcher
4 de febrero al 28 de abril de 2024
Con una selección de máscaras africanas de la vasta colección de Bruce Heitler, esta exposición incluye 30 máscaras de varios grupos indígenas africanos. Algunas de las máscaras expuestas tienen más de un siglo de antigüedad. Las piezas resaltan los variados estilos artísticos culturalmente específicos de cada grupo de pueblos indígenas africanos.
Grupos indígenas destacados:
Ana
Bamana
Bamileke
Bassa
Baule
Además de estas máscaras tradicionales, Denver Arts & Venues invita a artistas contemporáneos a enviar sus propuestas o obras de arte existentes para que se consideren su exhibición como una versión moderna de esta forma de arte eterna. Si se seleccionan, estas obras se exhibirán como acompañantes de las máscaras históricas en exhibición. Los artistas pueden postularse a continuación.
Declaración de la curadora
La poderosa expresividad de la máscara africana es innegable. Esta forma de arte ha influido en movimientos artísticos como el cubismo, el fauvismo y el expresionismo. Los visitantes de la exposición se conmoverán por la belleza de esta forma de arte tradicional y además se sentirán impresionados por las obras contemporáneas presentadas en respuesta a la invitación de esta exposición. Las máscaras incluyen un elemento humano que nos atrae porque las máscaras sirven tanto para ocultar como para revelar, infundidas con un intenso poder psíquico y una profunda experiencia y emoción humana.