Cultural Runway Fashion Show: Casting Call 1pm-4pm
McNichols Building
05/20/2023 · 1:00PM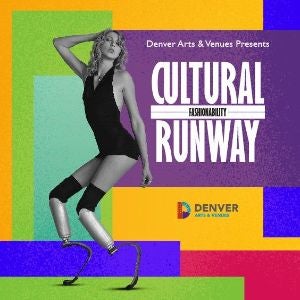 Cultural Runway Series: FashionAbility
Calling all bodies, abled/disabled, models of all ages, shapes and sizes to strut their stuff at Denver Arts & Venues Cultural Runway Series: FashionAbility on July 29, featuring work by designers Lexie Bader, Rob Hill and Rachael Levine.
This runway is inspired by the exhibition "Vibrant Accessibility" featuring three artists who are legally blind: Chloé Duplessis, Melanie Walker, John Bramblitt.
Please dress in all black with black or nude heels or sneakers. This open casting call is from 1-4 p.m. at McNichols Civic Center Building, 144 W. Colfax Ave., Denver, CO 80202.
For Spanish or other Interpretation Services: Amber.Fochi@denvergov.org
For Sign Language Interpreter or Cart Services: deafhhservices@denvergov.org
For Other Disability Accommodations: disabilityaccess@denvergov.org
Please request interpretation or accommodation at least three business days in advance.