Lumonics Event: Andy Babb and the Big Beautiful Band
McNichols Building
07/14/2018 · 7:30PM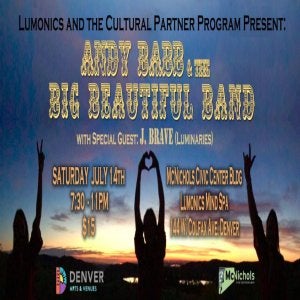 Join Andy Babb and the Big Beautiful Band in the Lumonics Mind Spa at the McNichols Civic Center Building for an intimate evening of music, community and art!
The night will feature acoustic performances from members of the Big Beautiful Band along with a spoken word/hip hop performance from special guest J. Brave of the Luminaires. To close the night, we will be boogying down with The Big Beautiful Band in its entirety!
$15 admission, all ages show.