Night In Wakanda
McNichols Building
09/28/2019 · 6:00PM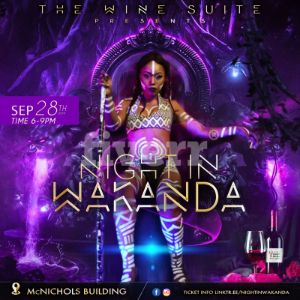 The Wine Suite presents Night in Wakanda with the Wines of South Africa Wine Association and Parish Media.
The evening will be filled with a Grand Tasting of 20 + brands from the Wines of the South African Wine Association. We will sample wine from The Western Cape, Stellenbosch, Walker's Bay, Elgin, and a few from Zimbabwe. We will also have a few selected Black Winemakers. Guests will nosh on complimentary gourmet bites from Top Local Denver Chefs and become immersed into the Wakandain Culture. The event is inspired by the Black Panther Movie.
As the Evening progresses, you will attend a fashion show featuring the style and culture of the "13 tribes" of Africa, as seen throughout the movie. We will have a 30-minute Fashion show with local Top Denver Designers.
There will be preferred seating. Finally, we will be graced with a Dance performance from the acclaimed Cleo Parker Robinson Dance Troupe.
Not tired? Why not stay for the After Party with Top Local DJ and swag the night away.
We will have a Cash Bar and Dessert Bar for your sugar tooth.

This event has a STRICT DRESS CODE
Dress code: Ankara Chic ( African Couture Kente ) | International Cultural Dress Up ( Dress up in your National or Cultural Formal Garb) | Cocktail Attire or Evening Attire
Men: Ankara Suits, Suit | Slacks and a Blazer

This event is supported by Denver Arts & Venues Cultural Partner Program.