The 50 Awards 6 p.m. - 9 p.m.
McNichols Building
01/27/2022 · 6:00PM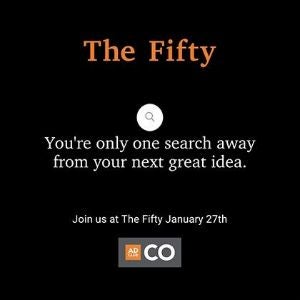 Ad Club Colorado will be presenting The 50 on January 27, 2022 at McNichols Civic Center Building in Denver, Colorado. The 50 features the fifty top advertising and marketing ideas from all across Colorado. High-profile judges from creatively respected agencies in New York, Chicago, Dallas and Austin score hundreds of entries with the top 50 representing the state in creativity and effectiveness, all revealed for agencies and marketers to see on January 27.
""The Fifty is an incredible opportunity for us to gather and celebrate the great work by Coloradans - to find inspiration, meet up with colleagues and friends, and establish new connection," said D'Arcy Lynch Toffolo, President of Ad Club Colorado and Executive Managing Director Moore.
Ad Club Colorado is the state's premier advertising and marketing club with 500+ members from Denver, Boulder, Colorado Springs, Fort Collins and towns from every corner of the state. The club strives to drive positive change in the industry, help agencies navigate and adapt to the rapid changes in the business and define the future of the advertising profession.
"The 50 is a celebration of the fantastic work coming out of Colorado. Professionals from across the state connect and get inspired by the high-level creativity and strategy showcased in the winners," said Tonja Roth, Executive Director of Ad Club Colorado. "It is a great way to celebrate Colorado."
The club sponsors include Adelphic by Viant, Tremeor Video, Simpli.fi, effect, casual iQ, PadSquad, The Keep, 5280 Magazione, Vision and The Colorado Sun. The 50 is sponsored by Bidtellect, kree8, Vision Graphics, Occasions Catering, 11 Dollar Bill, Coupe Studios and Fortnight Collective.
To attend The 50 or learn more about Ad Club Colorado, visit Adclubco.com.