The Colorado for Puerto Rico & Mexico Benefit Concert
McNichols Building
10/12/2017 · 4:00PM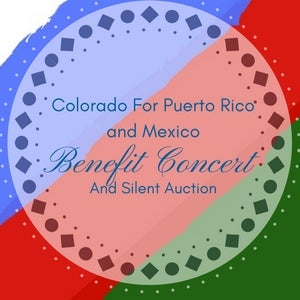 A consortium of collaborating organizations and individuals lead by the Latino Chamber of Commerce and Barrio E' would like to invite you to the CO4PR Benefit Concert on Thursday, Oct 12, 2017, 4pm - 11pm.
All proceeds will go towards helping the victims of Hurricane Maria in Puerto Rico and the recent Earthquakes in Mexico. Amongst the organizers are Jose Beteta, director of the Latino Chamber & co-owner of Raíces Brewing Co., Tamil Maldonado, Director of Barrio E' and co-owner of Raíces Brewing Co., and Stella Peterson, CEO of Stella PR + Marketing, Aquilles Quiroga, director of Los Hijos de Tuta Latin Rock band in Fort Collins.
The event will include a silent auction with donated art and items from artists like Arturo Garcia and items from Beto's Hair Salon. Food will be provided by Dos Abuelas Food Truck, Fruits from Oasis Fruits by Haydee Caraveo and Desserts from La MoMo Maes Bakery.
Entertainment includes Barrio E' (Puerto Rican Bomba), Colombian dance troupe, Mono Verde, Latin Explosive Movement (LEM), Los Hijos de Tuta (Latin Rock), Son Moreno (Cuban Son, Cumbias), Roka Hueka (Latin Ska) and Orquesta La Brava (Salsa). Dance groups COSA and Zumba Jose Jimenez will present dance exhibitions and event Timbalin the Clown will be presenting.
The cost for the event is a suggested donation of $20.