exhibitions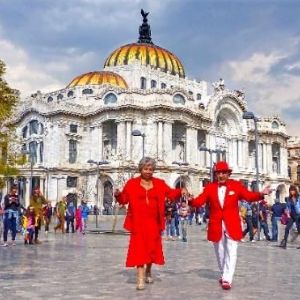 Ecosistema 06050
01/

07/

2020
-
01/
31/
2020
Ecosistema 06050
First Floor Community Gallery
January 7-31
After more than two decades of living in different international cities as a member of the Foreign Service, Jacob Prado returned to Mexico City. Upon his return, he found himself restless, with a keen eye and his camera in hand. There he rediscovered the extraordinary contrast of people living in the energetic neighborhood.
Mexico City's historic center -- formerly ometeotl, or center of the world – is now a zip code made up of several social classes, home to diverse cultural segments of the Mexican population. It is a place of inescapable interdependence between very different groups.
In the multi-colored mosaic of the capital city, Prado has captured images of plumed dancers keeping their pre-Hispanic heritage alive; of traditional men and women, imbued with conservative Western values; and of adolescents who, with a libertarian attitude, seek to externalize their identity through tattoos and piercings, perhaps as an allegory of their resistance to alienation. With speed, he has captured photos of young punks and cyber-goths who emulate the cultural trends of incomplete globalization, their interactions creating an urban subculture in 21st century Mexico.
Each shot of his camera has captured the melting pot Mexico's past and present, and has crystalized the dreamlike complexity of Mexico City's contemporary tribes by elevating his photographic subjects.
This photographic exhibition, a selection from the "Ecosystem 06050" collection, is a close look at the place that the artist now calls home: an abstract and vital observation of the city through color and black and white photos. It is the portrait of a place where time seems to have stopped for centuries, yet continues to hurtle forward through the vibrant stories of the youth – a place of ancestral pride and future transcendence.
Related events:
McNichols Project: Saturday, Jan. 18, 5-8 p.m.
Ecosistema 06050
Primer piso de la Galería Comunitaria
Ene. 7-31
Después de más de dos décadas de radicar en diferentes ciudades extranjeras como miembro del Servicio Exterior, Jacob Prado regresa a la Ciudad de México e inquieto, con percepción aguda y cámara en mano, redescubre la enorme amalgama de contrastes que caracterizan su vigorosa sociedad.
Se ubica en el Centro Histórico, antiguo ometéotl o centro del mundo, ahora código postal en donde conviven cotidianamente no sólo múltiples clases sociales, sino donde existe una ineludible interdependencia de un heterogéneo ecosistema humano integrado por segmentos de la población mexicana con muy particulares características culturales que los diferencian entre sí.
En el mosaico polícromo de la sociedad capitalina, el fotógrafo capta imágenes de danzantes ataviados con plumajes que mantienen viva la cosmovisión prehispánica; de hombres y mujeres adultos de estampa tradicional, quizás identificados con valores occidentales conservadores; y de adolescentes que con una actitud libertaria buscan exteriorizar su identidad a través de tatuajes y perforaciones en sus cuerpos, a los que usan como alegoría de una personalidad que se resiste a ser alienada. Sus rápidos reflejos activan nuevamente el obturador y hacen suyos cuadros de jóvenes punks y ciber-góticos que, emulando las tendencias culturales e identitarias de una globalización inacabada, practican el interaccionismo simbólico como instrumento para lograr su consolidación como una subcultura urbana en el México del Siglo XXI. Así, al deambular por las calles de ese maravilloso crisol de nuestras múltiples herencias, con cada disparo de su cámara materializa y hace perpetuos momentos complejos, subjetivos y oníricos de las disímbolas tribus que convierte en su personaje principal.
Esta muestra fotográfica, una selección de la colección "Ecosistema 06050", pretende ser una radiografía del lugar que hoy el artista identifica como su hogar: una imagen abstracta y vital que va más allá de una explicación lógica, con mucho color y también blanco y negro. Es el retrato de un espacio en donde el tiempo parece haberse detenido desde hace siglos y, simultáneamente, sigue gritando sus historias con el orgullo joven y vibrante de cuando nuestros ancestros eligieron esta tierra para habitarla y trascender.
Evento relacionado:
Proyecto McNichols: Ene. 18, 5-8 p.m.