exhibitions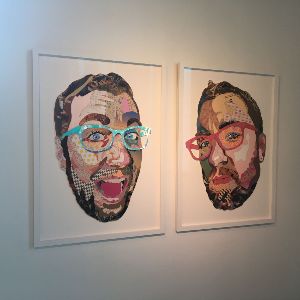 Lavender Mist: Gay Men in Contemporary Art in Colorado
05/

30/

2020
-
09/
13/
2020
Lavender Mist: Gay Men in Contemporary Art in Colorado
Boettcher Cultural Pavilion, Second Floor, McNichols Civic Center Building
May 30-Sept. 13, 2020
This exhibit zeroes-in on some of the state's most significant contemporary artists who also happen to be gay; a key constituent of the larger LGBTQ+ community. Gay men have often played an outsized role throughout the history of art, which is reflected in Colorado's contemporary art scene, now and in the recent past.
Focusing exclusively on the work of gay men presents certain challenges in organizing the relevant material, most obviously because there is no real unified stylistic or topical language among their community. This is starkly unlike, for example, feminist artists or Chicano artists that do share certain styles, topics and themes. Yet the distinct identity of being a gay man within the larger heteronormative community inevitably creates what could be called a position of "otherness." That characteristic must be expressed somehow in the work, given how deeply personal art making invariably is. Their shared identity assigns to these artists a special way of seeing the world, enlightened by the richness of their unique shared experiences. Like other marginalized communities, these experiences concern acceptance, the struggle for equality, the resistance to bigotry and even the avoidance of hatred.
The organizing armature of this show is this "otherness," which can be understood as a distinctive sensibility regardless of the styles or subjects the artists embrace. Identifying this quality has long been downplayed or ignored outright in the art world. This is because, (beyond the obvious, which is deeply-rooted homophobia,) the visible evidence in art of this particular "otherness" is often something that is all-but ineffable.
The exhibition, Lavender Mist: Gay Men in Contemporary Art in Colorado, attempts to locate this characteristic of "otherness" in the intelligence and exquisite taste by which everything these particular gay artists have realized. In that way, the gay identity certainly and necessarily played a significant part in their individual development as accomplished artists.
-Michael Paglia/Denver
Related Events
In order to maintain a safer visitation experiences, McNichols Building exhibitions are free and open to the public. Following Safer-At-Home guidelines, groups of eight people or fewer can make appointments online for a two-hour time slot starting Monday, June 15, daily 8:30-10:30 a.m., 11:30 a.m.-1:30 p.m. or 2:20-4:30 p.m. Please visit artsandvenues.wufoo.com/forms/mcnichols-building-reservation-request to make an appointment. The exterior of McNichols Building will also be lit in multiple colors in honor of Pride Month.
Facebook Live Tours, Fridays, noon: Join curators and special guests on Facebook.com/McNicholsBuilding as they guide viewers through the exhibits and provide additional insight from curator of exhibitions, Shanna Shelby. Participants will have an opportunity to ask questions via Facebook chat.
June 19 host – David Duffield, historian - Now available as an on-demand video.
June 26 host – Michael Paglia, curator, Lavender Mist - Now available as an on-demand video.
July 10 host – Brendan Picker, curator, Queer City of the Plains - Now available as an on-demand video.
Artists Panel, Thursday, June 18, 6-7:30: Join art critic Ray Rinaldi as he moderates an online panel of artists featured in Queer City of the Plains including Jonathan Saiz, Adri Norris, Steven Frost, Brian Corrigan and members of Secret Love Collective, as well as historians David Duffield and Genevieve Waller. Now available as an on-demand video.
Flag Making Workshop, on-demand after June 15: What kind of visual rhetoric best represents your community? Join artist Steven Frost for an intimate video workshop focused on the conception and design of your own personal flag. This short video will explore the origins of popular queer symbolism and introduce conceptual techniques for generating civic designs. The only materials required to participate are colored pencils or markers and a couple pieces of blank paper. Now available as an on-demand video.
Lavender Mist: Hombres gay en el arte contemporáneo de Colorado
Pabellón Cultural Boettcher, segundo piso, Edificio "McNichols" del Centro Cívico
Mayo 30-Septiembre 13, 2020
Esta exhibición se centra en algunos de los artistas contemporáneos más importantes del estado que también son gay, un componente clave de la comunidad LGBTQ+. Con frecuencia, los hombres gay han desempeñado un papel descomunal a lo largo de la historia del arte, que se refleja en la escena del arte contemporáneo de Colorado ahora y en el pasado reciente.
Centrarse exclusivamente en el trabajo de los hombres gay presenta ciertos desafíos en la organización del material relevante porque no existe un lenguaje estilístico o tópico unificado real entre su comunidad. Esto es muy diferente, por ejemplo, de artistas feministas o artistas chicanos que comparten ciertos estilos, temas y tópicos. Sin embargo, la identidad distintiva de ser un hombre gay dentro de la comunidad heteronormativa más grande inevitablemente crea lo que podría llamarse una posición de "otredad". Esa característica debe expresarse de alguna manera en la obra, dado lo profundamente personal que es invariablemente la creación artística. Su identidad compartida asigna a estos artistas una forma especial de ver el mundo, iluminada por la riqueza de sus experiencias únicas y compartidas. Al igual que otras comunidades marginadas, estas experiencias se refieren a la aceptación, la lucha por la igualdad, la resistencia al fanatismo e incluso a evitar el odio.
El andamiaje organizador de esta exhibición es esta "alteridad", que puede entenderse como una sensibilidad distintiva, independientemente de los estilos o temas que los artistas adopten. Identificar esta calidad ha sido minimizado o ignorado por completo en el mundo del arte. Esto se debe a que (más allá de lo obvio, que es una homofobia profundamente arraigada), la evidencia visible en el arte de esta particular "otredad" es a menudo algo que resulta casi inefable.
La exposición Neblina Lavanda: Hombres gay en el arte contemporáneo de Colorado intenta ubicar esta característica de "otredad" en la inteligencia y el gusto exquisito por el cual se han dado cuenta todos estos artistas gay particulares. De esa manera, la identidad gay cierta y necesariamente jugó un papel importante en su desarrollo individual como artistas consumados.
- Michael Paglia/Denver
Eventos relacionados:
Denver Arts & Venues presentará las exhibiciones en el sitio McNicholsBuilding.com para permitir que la gente experimente las exhibiciones virtualmente. Experiencias virtuales adicionales como visitas, paneles y talleres también estarán disponibles en línea durante todo junio en celebración del Mes del Orgullo. El exterior del edificio McNichols también se iluminará en varios colores en honor al Mes del Orgullo.
Con el fin de mantener una experiencia de visita más segura, las exhibiciones del Edificio McNichols son gratuitas y abiertas al público. Siguiendo las pautas de Safer-At-Home, grupos de ocho personas o menos pueden hacer citas en línea para un horario de dos horas a partir del lunes 15 de junio, diariamente: 8:30-10:30 a.m., 11:30 a.m.-1:30 p.m. o 2:20-4:30 p.m. Visitar artsandvenues.wufoo.com/forms/mcnichols-building-reservation-request para hacer una cita.
Visitas en Facebook Live los viernes al mediodía: En el sitio Facebook.com/McNicholsBuilding los curadores e invitados especiales guiarán a los visitantes virtuales a las exhibiciones y proveerán detalles adicionales de la curadora de las exhibiciones, Shanna Shelby. Los participantes podrán hacer preguntas por medio del chat de Facebook.
Anfitrión 19 de junio – David Duffield, historiador
Anfitrión 26 de junio – Michael Paglia, curador, Lavender Mist (Neblina lavanda)
Anfitrión 10 de julio – Brendan Picker, curator, Queer City of the Plains (Ciudad Queer en las Praderas)
Panel de artistas, jueves 18 de junio, 6-7:30: Únase al crítico de arte Ray Rinaldi mientras modera un panel de artistas en línea que aparece en Queer City of the Plains, incluidos Jonathan Saiz, Adri Norris, Steven Frost, Brian Corrigan y miembros de Secret Love Collective, así como los historiadores David Duffield y Genevieve Waller. Gratis. Regístrese en línea en Eventbrite.com.
Taller de creación de banderas (por pedido a partir del 15 de junio): ¿Qué tipo de retórica visual representa mejor a tu comunidad? Únase al artista Steven Frost para un taller de video íntimo centrado en la concepción y el diseño de su propia bandera personal. Este breve video explorará los orígenes del popular simbolismo queer e introducirá técnicas conceptuales para generar diseños cívicos. Los únicos materiales necesarios para participar son lápices de colores o marcadores y un par de hojas en blanco.