exhibitions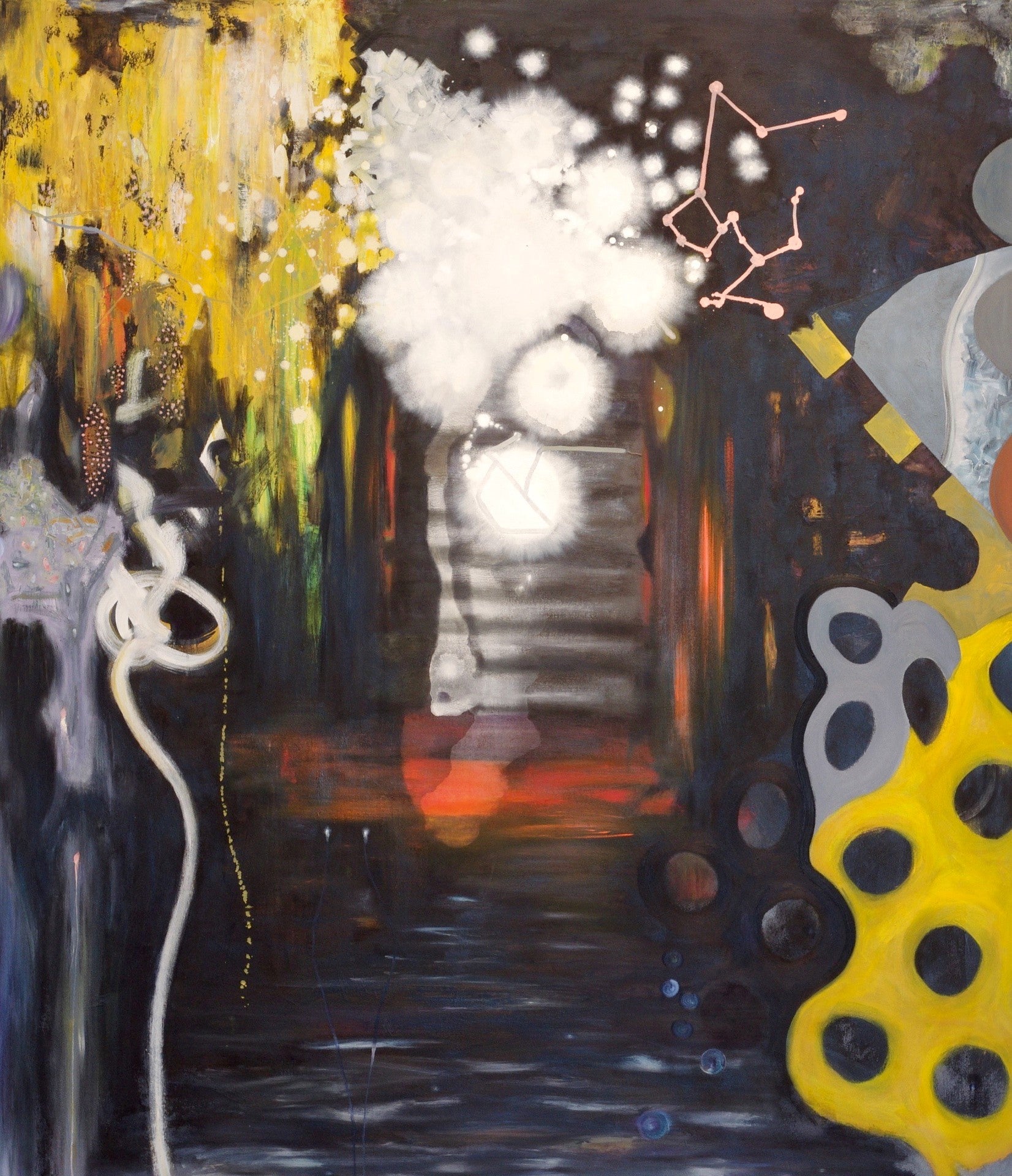 Of Places and Spaces: Homare Ikeda & Sandy Kinnee
04/

21/

2019
-
08/
24/
2019
Of Places and Spaces: Homare Ikeda & Sandy Kinnee
McNichols Civic Center Building, 3rd floor
April 21 – August 24
Colorado abstract painters Homare Ikeda and Sandy Kinnee connect with their audiences on a very primal level. People are drawn to their use of ancient forms and symbols, and bright, beautiful colors. Sandy describes his large format 15' paintings as short poems. Japanese artist Homare Ikeda's line and seed-like forms appear almost primordial.
All works are on loan from William Havu Gallery.
Related Events: McNichols Project, May 11, 6-9 p.m.
SANDY KINNEE
Sandy Kinnee lives and works in Colorado Springs. He received his BFA from the University of Michigan in 1969 and MFA from Wayne State University in 1976. Kinnee has taught at Colorado College, University of Colorado, Colorado Springs and the Colorado Springs Fine Art Center. Sandy Kinnee is a Pollack-Krasner Foundation grantee.
Kinnee's numerous one-man shows include: Zurich, 1994; 1/1 Gallery Denver, 1995; Peter M. David Gallery, Minneapolis, 1990; and Marcus Gordon, Pittsburgh, 1987.
His print works are represented in numerous public and private collections including Metropolitan Museum of Art, New York City; State Office Building, Columbus, OH; Allen Art Museum, Oberlin, OH; Evergreen State College, Olympia, WA; New Mexico Museum, Santa Fe; Portland (Oregon) Art Museum; and Madison, Wisconsin Art Center.
HOMARE IKEDA
To painter Homare Ikeda, a blank paper can be a breath of the infinite. "As I make marks on paper, I am aware and not aware of the forms emerging. The forms and marks interact with each other. I feel they are voices trying to signify something." Perhaps it takes the unique perspective of a childhood spent on a small island to see the infinite guises of the world in which we live; Ikeda's unique skill is in his translation of these reflections onto the blank canvas from which, it could be said, all life begins.
In Ikeda's watercolor mixed media paintings with pen and ink additions, there is a playfulness in the artist's sensitive lines and seed-like forms, even as the images appear almost primordial.
Born on the subtropical island of Yoron, near Okinawa, Japan, Ikeda spent his childhood exploring the island and the coral reefs surrounding it; after high school he left his small island world to explore Japan and India. In 1978, he moved to the United States. The artist credits a college professor in Stockton, California for setting him on the right artistic path. "He was a wonderful art professor; he spent all his energy on his teaching." This same professor guided Ikeda to the University of Colorado at Boulder where he received both a BFA and MFA. Today, the artist teaches both drawing and painting, while continuing to show his work in group and solo shows and expand his base of collectors.
Of Places and Spaces: Homare Ikeda y Sandy Kinnee
Edificio "McNichols" del Centro Cívico, 3er piso
Abril 21 – Agosto 24
Los pintores abstractos de Colorado, Homare Ikeda y Sandy Kinnee, se conectan con sus audiencias en un nivel muy primordial. Las personas se sienten atraídas por el uso de formas y símbolos antiguos, y colores brillantes y hermosos. Sandy describe sus pinturas de gran formato de 15 pulgadas como "poemas cortos". La línea y las formas de semillas del artista japonés Homare Ikeda parecen casi primordiales.
Todas las obras son préstamos de la Galería William Havu.
Evento relacionado: Proyecto McNichols, Mayo 11, 6-9 p.m.
SANDY KINNEE
Sandy Kinnee vive y trabaja en Colorado Springs. El recibió su bachillerato en bellas artes de la Universidad de Michigan en 1969 y su maestría en bellas artes MFA de la Universidad Estatal de Wayne en 1976. Kinnee ha enseñado en el Colorado College, la Universidad de Colorado en Colorado Springs y el Centro de Bellas Artes de Colorado Springs. Sandy Kinnee ha recibido subsidios de la Fundación Pollock-Krasner.
Las numerosas exposiciones individuales de Kinnee incluyen: Zurich, 1994; 1/1 Galería Denver, 1995; Galería Peter M. David, Minneapolis, 1990; y Marcus Gordon, Pittsburgh, 1987.
Sus obras impresas están representadas en numerosas colecciones públicas y privadas, como el Metropolitan Museum of Art, en la ciudad de Nueva York; Edificio de Oficinas Estatales, Columbus, OH; Museo de Arte Allen, Oberlin, OH; Evergreen State College, Olympia, WA; Museo de Nuevo México, Santa Fe; Museo de Arte de Portland (Oregón); y Madison, Wisconsin Art Center.
HOMARE IKEDA
Para el pintor Homare Ikeda, un papel en blanco puede ser un soplo del infinito. "Al hacer marcas en el papel, soy consciente y no soy consciente de las formas que están surgiendo. Las formas y marcas interactúan entre sí. Siento que son voces que intentan significar algo. Tal vez se necesita la perspectiva única de una infancia vivida en una isla pequeña para ver las infinitas formas del mundo en que vivimos". La habilidad única de Ikeda está en su traducción de estas reflexiones al lienzo en blanco desde el cual, se podría decir, surge toda la vida.
En las pinturas de técnica mixta de acuarela de Ikeda con adiciones de pluma y tinta, hay una alegría en las líneas sensibles del artista y en las formas de semillas, incluso cuando las imágenes parecen casi primordiales.
Nacido en la isla subtropical de Yoron, cerca de Okinawa, Japón, Ikeda pasó su infancia explorando la isla y los arrecifes de coral a su alrededor; Después de la escuela secundaria, abandonó su pequeño mundo de islas para explorar Japón e India. En 1978, se mudó a Estados Unidos. El artista le da crédito a un profesor universitario en Stockton, California, por ponerlo en el camino artístico correcto. "Fue un maravilloso profesor de arte maravilloso. Le dedicaba toda su energía a la enseñanza". Este mismo profesor dirigió a Ikeda a la Universidad de Colorado en Boulder, donde recibió un bachillerato y luego una maestría en bellas artes. Hoy en día, Ikeda enseña tanto dibujo como pintura, mientras continúa mostrando su trabajo en grupo y en exposiciones individuales y ampliando su base de coleccionistas.