exhibitions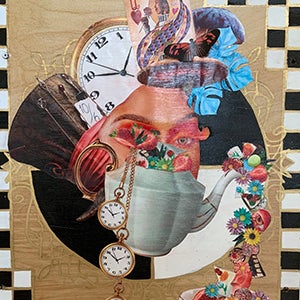 Portrait of a Culture
06/

01/

2022
-
08/
21/
2022
Portrait of a Culture
McNichols Civic Center Building, Third Floor
June 1-Aug. 21, 2022
This exhibit features portraits by Artist Kelle (Nigeria), Jordan Jones a.k.a. JJ The Artist (Florida), Yazz Atmore (Denver). Through their works, each artist showcases their own unique approaches to portraiture.
About the Artists
Jordan Jones a.k.a. JJ The Artist
Art was a significant and rewarding interest of JJ's from childhood. In college at UCONN, he changed his major from Math Education to reflect his passion and graduated with a B.A. in Fine Arts in 2012. Following college, he worked with a variety of youth programs (another labor of love for him) and took on multiple graphic design jobs. Following a serendipitous feature in a 2015 art showcase, he began to pursue other art opportunities, gradually becoming the self-sufficient artist he is today.
His artistic style takes the route of realism and he usually works on canvas with acrylic medium. The subjects of his art range from professional athletes, musicians and animals to his favorite characters from cartoons, video games and anime. JJ is also an adept graphic designer, creating logos, flyers and other digital works.
Yazz Atmore
Having created her own degree from Metropolitan State University, Yazz obtained a BA in Supporting High Risk through the Arts.
Yazz is a community organizer, creative and educator in Denver, where she continues to mentor and create with young artists as they explore their lives, stories and passions through the beauty of art. Constantly inspired by the youth and community she works with, Yazz continues to develop and deepen her own artistry as an analog collagist and muralist. Her work is heavily influenced by her spiritual journey. As an expressionist intuitive mixed media artist, she creates breathtaking hand-cut collage works, with the use of bright, bold colors, metallic paints and gold leaf.
Artist Kelle
Isaac Ekele, also known as Artist Kelle, is from Abuja, Nigeria. He is an only child who grew up in the city of Kaduna (a northern state in Nigeria). When Artist Kelle started drawing at age 9, his art was centered around comics and cartoons. As he grew, he became interested in drawing people using hard copy photos as a reference, making use of HB and 2B pencils to create his drawings. At age 17, he mastered the use of graphite pencils and the journey for realistic drawings started. Artist Kelle got his first commission about that same period, then started collecting more commissions, eventually becoming a fulltime artist during the COVID-19 pandemic, earning a living from commissioned drawings.
Aside from commissions, Artist Kelle is inspired to create personal art depicting his environment, life situations and emotions. He uses charcoal pencils, graphite pencils and soft blending brushes to achieve hyper realistic drawings, creating his work in layers, from lighter shades to darker shades. In addition to the realism of his works, each piece tells a personal story.
Related events
Arts & Venues Cultural Runway Series: Street Fashion - July 23, 7-11 p.m. - watch the highlight reel
Artist Discussion, Fashion Workshop and Vendor Fair - July 24, 1-4 p.m.
Retrato de una cultura
Edificio "McNichols" del Centro Cívico, tercer piso
1 de junio al 21 de agosto de 2022
Esta exhibición presenta retratos creados por Artist Kelle (Nigeria), Jordan Jones a.k.a. JJ The Artist (Florida), Yazz Atmore (Denver). A través de sus obras, cada artista muestra sus propios enfoques únicos en la creación de retratos.
Sobre los artistas
Jordan Jones, alias JJ The Artist
El arte fue un interés significativo y gratificante de JJ desde la infancia. En la Universidad de Connecticut (UCONN), cambió su especialización de Educación Matemática para reflejar su pasión y se graduó con un bachillerato (licenciatura) en Bellas Artes en 2012. Después de la universidad, trabajó con una variedad de programas para jóvenes (otra tarea de amor para él) y asumió múltiples trabajos de diseño gráfico. Luego de una aparición fortuita en una exhibición de arte en 2015, comenzó a buscar otras oportunidades artísticas, convirtiéndose gradualmente en el artista autosuficiente que es hoy.
Su estilo artístico sigue la ruta del realismo y suele trabajar sobre lienzo con medio acrílico. Los temas de su arte van desde atletas profesionales, músicos y animales hasta sus personajes favoritos de dibujos animados, videojuegos y anime. JJ también es un diseñador gráfico experto que crea logotipos, volantes y otros trabajos digitales.
Yazz Atmore
Habiendo creado su propio título de la Universidad Estatal Metropolitana de Denver (MSU), Yazz obtuvo una licenciatura (bachillerato) en Respaldo a Personas de Alto Riesgo por medio del Arte.
Yazz es una organizadora comunitaria, creativa y educadora en Denver, donde continúa asesorando y creando con jóvenes artistas mientras ellos exploran sus vidas, historias y pasiones a través de la belleza del arte. Constantemente inspirada por la juventud y la comunidad con la que trabaja, Yazz continúa desarrollando y profundizando su propio arte como creadora de collages y de murales analógicos. Su trabajo está fuertemente influenciado por su viaje espiritual. Como artista de medios mixtos intuitivos y expresionistas, crea impresionantes trabajos de collage cortados a mano, con el uso de colores brillantes y llamativos, pinturas metálicas y cobertura de oro.
Artist Kelle
Isaac Ekele, también conocido como Artist Kelle, es de Abuja, Nigeria. Es hijo único que creció en la ciudad de Kaduna (un estado del norte de Nigeria). Cuando el artista Kelle comenzó a dibujar a los 9 años, su arte se centraba en cómics y dibujos animados. A medida que crecía, se interesó en dibujar personas utilizando fotografías impresas como referencia, utilizando lápices HB y 2B para crear sus dibujos. A los 17 años, dominó el uso de lápices de grafito y comenzó el viaje por los dibujos realistas. Artist Kelle recibió su primer encargo en ese mismo período, luego comenzó a recolectar más encargos y finalmente se convirtió en un artista de tiempo completo durante la pandemia de COVID-19, ganándose la vida con los dibujos encargados.
Además de los encargos, el artista Kelle se inspira para crear arte personal que represente su entorno, situaciones de la vida y emociones. Utiliza lápices de carbón, lápices de grafito y pinceles suaves para difuminar y lograr dibujos hiperrealistas, creando su trabajo en capas, desde tonos más claros hasta tonos más oscuros. Además del realismo de sus obras, cada pieza cuenta una historia personal.
Evento relacionado
Serie "Pasarela Cultural" de Arts & Venues: Moda callejera - 23 de julio, 7 p.m. a 11 p.m. - vea las escenas más destacadas
Debate de artistas, taller de moda y feria de vendedores: 24 de julio, de 1 p. m. a 4 p. m.