exhibitions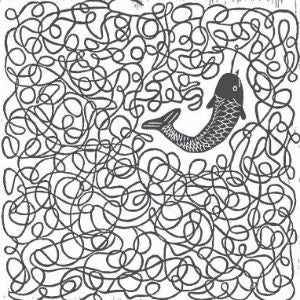 Tomorrow is a New Day: The Artwork of Lauren Iida and Morn Chear
01/

20/

2022
-
05/
01/
2022
"Tomorrow is a New Day: The Artwork of Lauren Iida and Morn Chear"
McNichols Civic Center Building, Third Floor
January 20-May 1, 2022
"Tomorrow is a new day" is a popular Cambodian proverb with a message of optimistic perseverance through times of adversity. The artwork in this exhibition features deeply personal work from Open Studio Cambodia block print artist, Morn Chear, and Open Studio Cambodia founder, Lauren Iida, Japanese American papercut artist. Each has used art as a powerful tool to heal, grow and express their valuable and unique points of view.
Morn Chear uses art to create a new life for himself, stand on his own two feet, and challenge the stigma of physical disability. Iida uses art to investigate and heal from the generational trauma of her Japanese American ancestors. Both artists hope to touch the viewer and offer new perspectives on these often overlooked topics to create a sense of awareness and deeper understanding.
Open Studio Cambodia is an artist collective based in Siem Reap, Cambodia, gateway to the ancient temples of Angkor Wat. Comprised of six contemporary Cambodian artists and its founder, paper cutaway artist and public artist, Lauren Iida (Seattle), Open Studio Cambodia provides mentoring, marketing, art supplies, and domestic and international exhibition opportunities to its members, and collaborates with a network of artists and arts organizations to promote the rising contemporary art scene in Cambodia and beyond.
www.openstudiocambodia.com
www.laureniida.com
Related events
Virtual Discussion with Lauren Iida - March 1, noon
Cultural Runway - March 12, 7-11 p.m.
"Mañana es un nuevo día: obras de arte por Lauren Iida y Morn Chear"
Edificio "McNichols" del Centro Cívico, tercer piso
20 de enero al 1 de mayo de 2022

"Mañana es un nuevo día" es un proverbio popular camboyano con un mensaje de perseverancia optimista en tiempos de adversidad. Las obras de arte de esta exposición presentan un trabajo profundamente personal de Morn Chear, artista de impresión en bloque de Open Studio Cambodia, y de la estadounidense Lauren Iida, fundadora de Open Studio Cambodia y artista de corte de papel japonés. Cada uno ha utilizado el arte como una herramienta poderosa para curar, crecer y expresar sus valiosos y únicos puntos de vista.
Morn Chear usa el arte para crear una nueva vida para sí mismo, valerse por sí mismo y desafiar el estigma de la discapacidad física. Iida usa el arte para investigar y curarse del trauma generacional de sus ancestros japoneses estadounidenses. Ambos artistas esperan llegar al espectador y ofrecer nuevas perspectivas sobre estos temas que frecuentemente se pasan por alto, creando así un sentido de conciencia y una comprensión más profunda.
Open Studio Cambodia es un colectivo de artistas con sede en Siem Reap, Camboya, puerta de entrada a los antiguos templos de Angkor Wat. Compuesto por seis artistas camboyanos contemporáneos y su fundadora, artista de corte de papel y artista público, Lauren Iida (Seattle), Open Studio Cambodia ofrece tutoría, marketing, suministros de arte y oportunidades de exhibición nacionales e internacionales a sus miembros, y colabora con una red de artistas y organizaciones artísticas para promover la creciente escena del arte contemporáneo en Camboya y más allá.
www.openstudiocambodia.com
www.laureniida.com
Eventos relacionados
Visita virtual y conversación con Lauren Iida - 1 de marzo, 12 p.m.
Pasarela Cultural - 12 de marzo, 7-11 p.m.