exhibitions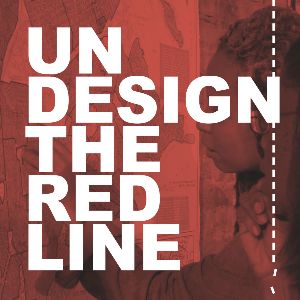 Undesign the Redline
03/

22/

2019
-
07/
21/
2019
First Floor, Nook
Systemic challenges today, like inequalities in housing, education, income, criminal justice and health are far from separate issues. These challenges are rooted in a deep and entangled history of policies, practices and processes that remain unrevealed and misunderstood. As new forces begin to transform cities and towns, decisions about interconnected challenges are therefore often made 'in the dark.'
Gone unanswered are fundamental questions about our communities: how did we get here, and what does that mean for where we are going?
Undesign the Redline explores these reframed opportunities from a shared value perspective, and grounds discussions about race, wealth, opportunity and power in an honest context that is not about guilt and blame. This allows everyone to contribute their value to the design and development of projects, partnerships and decisions that seek to transform communities and move beyond the challenging and often clouded situation of our entangled past.
SECTION 1
Introduction to Redlining: How explicit, Jim Crow era racism was designed into structural racism from the New Deal era until today.
SECTION 2
Redlining Maps and Area Descriptions: The maps were made for 239 different cities and populated areas in the US.
SECTION 3
How does this connect to our shared history and today? Timeline of policies, practices, and investments as well as collective responses to their effects from 1800 - today.
SECTION 4
Stories from the Line explores local and national stories about Redlining.
SECTION 5
So what do we do about it? Here we explore alternative models and processes to drive a different narrative. A collective visioning space allows everyone to add their ideas and plug into a larger ecosystem.
Interactive components at each station that allow visitors to contribute knowledge and better understand the content presented.
The exhibit is open to the public during McNichols Building hours. If you would like to schedule a group tour, please contact jmassey@enterprisecommunity.org.
This exhibit is brought to you by Enterprise Community Partners and Denver Arts & Venues Cultural Partner Program.
Undesign the Redline (Desdiseñando los Límites Aceptables)
22 de marzo al 21 de julio
Primer piso, rincón
Los cambios sistemáticos actuales, como disparidad en viviendas, educación, ingresos, justicia criminal y salud, distan mucho de ser temas separados. Esos desafíos están enraizados en una historia profunda e interconectada de políticas públicas, prácticas y procesos que permanecen ocultos e incomprendidos. Y aunque nuevas fuerzas comienzan a transformar las ciudades y localidades, las decisiones sobre esos desafíos interconectados se hacen, por eso mismo, "en la oscuridad".
Aún no existen respuestas a las preguntas fundamentales de nuestras comunidades: ¿Cómo llegamos aquí? ¿Y qué significa eso para nuestro futuro?
Undesign the Redline (Desdiseñando los Límites Aceptables) explora esas oportunidades desde un contexto distinto, el de una perspectiva de valores compartidos que sirve de fundación para conversaciones sobre raza, riqueza, oportunidades y poder en un contexto honesto, sin culpabilidad ni acusaciones. De esa manera, todos pueden contribuir sus valores al diseño y desarrollo de proyectos, trabajos asociados y decisiones que buscan transformar las comunidades y superar los desafíos que las frecuentemente confusas situaciones de nuestro enmarañado pasado.
SECCION 1
Introducción a Límites Impuestos a Minorías: de qué manera se institucionalizó el racismo de las llamadas leyes "Jim Crow" desde la época del Nuevo Acuerdo (New Deal) hasta la actualidad.
SECCION 2
Límites Impuestos en mapas y descripciones de áreas. Los mapas muestran 239 ciudades y zonas habitadas de EEUU.
SECCION 3
¿Cómo se conecta todo eso con nuestra historia compartida y nuestro presente? Líneas de tiempo de políticas públicas, prácticas e inversiones, así como respuestas colectivas a sus efectos desde 1800 hasta el presente.
SECCION 4
"Historias de la Línea" explora historias locales y nacionales de límites impuestos a ciertos grupos.< /p>
SECCION 5
¿Y entonces qué hacemos? Aquí exploramos modelos y procesos alternativos para impulsar una narrativa distinta. Un espacio de visión colectiva donde se le permite a todos compartir sus ideas y ser parte de un ecosistema mayor.
Los componentes interactivos en cada estación le permiten a los visitantes contribuir sus conocimientos y entender mejor el contenido presentado.
La exhibición está abierta al público en el horario del Edificio McNichols. Para una visita en grupo, por favor contactar a jmassey@enterprisecommunity.org.
La exhibición es presentada por Enterprise Community Partners y por el Programa de Colaboración Cultural de Denver Arts & Venues (la oficina de arte de Denver).