exhibitions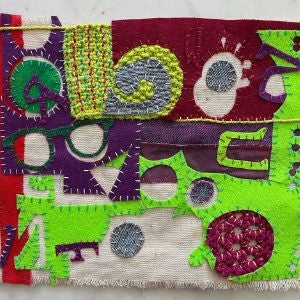 Woven Together
11/

05/

2023
-
12/
17/
2023
Woven Together
McNichols Civic Center Building, First Floor
November 5, 2023 - Dec. 17, 2023
Exhibition Hours: Open Daily 10 a.m.-4 p.m. unless otherwise noted on the calendar. 
Denver Arts & Venues presents textile artists of all types in "Woven Together," a dual exhibition at Buell Theatre and McNichols Civic Center Building, celebrating knitting, lacework, quilting, embroidery, crochet, cross-stitch and more! These artists from our community submitted works through an open call, and were selected to be showcased in these exhibitions.
Related Events
Opening Reception (at Buell Theatre) - Nov. 8, 5-7, p.m.
Closing Reception (at McNichols Civic Center Building), Dec. 16, 2-4 p.m.
Featured artists
Amber Fochi
Barbara McCrorie
Camilla Edwards
Charlotte Rica
Christina Panczyk
Claire Kelly
Donna Hankinson
Enchanted Dichotomy
Genevieve Waller
Jessica Bridge
Jim Goldsworthy
Kathy Mitchell-Garton
Ladies Fancywork Society
Linda Walgren
Lisa Goldsworthy
Mary Ramke
Nancy Levit
Nicole Vanston
Pansy Thomason
Peggy Stafford
Phillippa Lack
Sister Fred
Stephanie Zacharer Ruyle
Stevie Seewald
Susan Keck
Thad McCauley
Trudy Pohawpatchoko
*please note, some artworks are on display at Buell Theatre lobby in a sister exhibition
Woven Together
Edificio McNichols del centro cívico, Primer Piso
5 de noviembre - 17 de diciembre de 2023
Denver Arts & Venues presenta a artistas textiles de todo tipo en "Woven Together", una exposición doble en el Teatro Buell y el Edificio McNichols del centro cívico, que celebra el tejido, el encaje, el quilting, el bordado, el crochet, el punto cruz y mucho más. Estos artistas de nuestra comunidad presentaron obras a través de una convocatoria abierta y fueron seleccionados para participar en estas exposiciones.
Eventos relacionados
Recepción inaugural (en el Teatro Buell): 8 de noviembre, de 5 a 7 p. m.
Recepción de clausura (en el edificio del Centro Cívico McNichols), 16 de diciembre, de 2 a 4 p. m.
Artistas destacadosAmber Fochi
Barbara McCrorie
Camilla Edwards
Charlotte Rica
Christina Panczyk
Claire Kelly
Donna Hankinson
Enchanted Dichotomy
Genevieve Waller
Jessica Bridge
Jim Goldsworthy
Kathy Mitchell-Garton
Ladies Fancywork Society
Linda Walgren
Lisa Goldsworthy
Mary Ramke
Nancy Levit
Nicole Vanston
Pansy Thomason
Peggy Stafford
Phillippa Lack
Sister Fred
Stephanie Zacharer Ruyle
Stevie Seewald
Susan Keck
Thad McCauley
Trudy Pohawpatchoko