Chained Voices Closing Reception 5pm - 8pm
McNichols Building
08/20/2022 · 5:00PM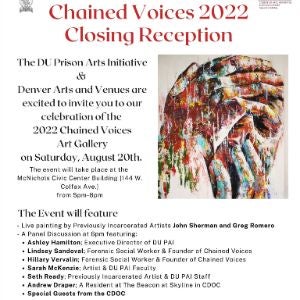 Please join us to celebrate the closing of our second floor exhibition, "Chained Voices: DU Prison Arts Initiative." We invite you to enjoy light refreshments as you explore the art on display, all of which was created by artists currently incarcerated at a Colorado Department of Corrections facility. Attendees are invited to purchase artwork and take it home! All funds from artwork purchases go directly to the artists, and most use the funds to buy art supplies.
The event will feature:
- Live painting by previously incarcerated artists John Sherman and Greg Romero
- A panel discussion at 6 p.m. featuring:
- Ashley Hamilton, Executive Director of DU PAI
- Lindsey Sandoval, Forensic Social Worker & Founder of Chained Voices
- Hillary Vervalin, Forensic Social Worker & Founder of Chained Voices
- Sarah McKenzie, Artist & DU PAI Faculty
- Seth Ready, Previously Incarcerated Artist & DU PAI Staff
- Andrew Draper, A Resident at The Beacon at Skyline, Colorado Department of Corrections (CDOC)
- Special Guests from the CDOC
If you have purchased art from Chained Voices this year, there will be a pick-up station on the First Floor where you will retrieve your art.