Tales in Textiles and Polished Closing Reception, Exhibit Tour, Curator Discussion and Fabric Sale
McNichols Building
08/26/2023 · 1:00PM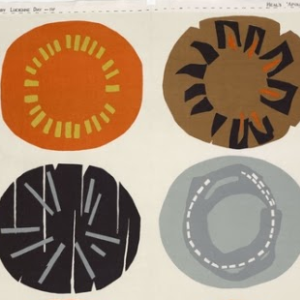 Join Denver Arts & Venues and Shanna Shelby, curator of exhibitions, from 1-2 p.m. on Aug. 26 for a tour and discussion of "Tales in Textiles: Mid-Century Style" on display at McNichols Civic Center Building June 8-Aug. 27, 2023.
In the vein of sustainable fashion design, selvage and remnant fabrics highlighted in the exhibition will be available for purchase at the closing reception for both "Tales in Textiles" and "Polished: The "Candy Coated" Works of Sonny Valdez" from 2-4 p.m. following the tour and discussion. Light refreshments will be served.
This tour and discussion, and the closing reception following are free and open to the public. Please RSVP.
About the Exhibitions:
Tales in Textiles: Mid-Century style in design and furniture is characterized by clean lines and minimalist aesthetics. Furnishing textiles from this period were bold and innovative. The design aesthetic for the patterns drew from modern artists like Alexander Calder and Joan Miró. Innovation in manufacturing allowed for more affordable prices and thus an explosion of popularity. Despite being more than half a century old, textiles from this period have not lost their appeal.
This exhibition includes a wide variety of artists and textile designers from the era, such as Lucienne Day, John Piper and Marian Mahler. To complement the fabrics on display, the exhibition showcases furniture and home furnishings.
Polished: Denver artist Moses "Sonny" Valdez established his artistic roots over the course of more than 25 years working as a custom automotive painter. With brushed metal as his canvas, automotive paint as his medium and imagination seeding his artistic dreams, Sonny Valdez creates contemporary abstract works of art that are hard to restrict to a certain genre.
Born and raised in Denver, Valdez grew up with a tinkerer's love of cars. As a younger man, he opened an auto body shop with friends, but eventually found himself on his own. Faced with the prospect of sinking or swimming, Valdez soon made custom painting a steady part of his repertoire. The skill grew and so did the number of customers.
His passion for cars and talent as a custom painter kept him in business for many years, and his award-winning custom painted cars have been featured in national automotive magazines.
Now, Valdez works on pieces of brushed metal, etching unique patterns onto them with grinding tools and finishing them with "candy coated" shades of automotive paint. In addition to metal surfaces, he also paints on wood and acrylic plexiglass.
This series of metal works on display at the McNichols Civic Center Building are rich in color and have a glow about them. Visitors will appreciate this automotive technique in a new form.