Tales in Textiles Closing Exhibit Tour, Curator Discussion and Fabric Sale
McNichols Building
08/26/2023 · 1:00PM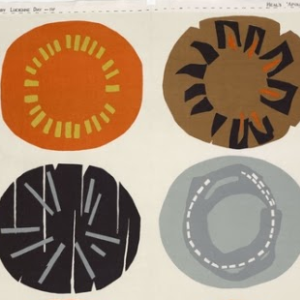 Join Denver Arts & Venues and Shanna Shelby, curator of exhibitions, from 1-2 p.m. on Aug. 26 for a tour and discussion of "Tales in Textiles: Mid-Century Style" on display at McNichols Civic Center Building June 8-Aug. 27, 2023.
In the vein of sustainable fashion design, selvage and remnant fabrics highlighted in the exhibition will be available for purchase at the closing reception following the tour and discussion. Light refreshments will be served.
About the Exhibition:
Mid-Century style in design and furniture is characterized by clean lines and minimalist aesthetics. Furnishing textiles from this period were bold and innovative. The design aesthetic for the patterns drew from modern artists like Alexander Calder and Joan Miró. Innovation in manufacturing allowed for more affordable prices and thus an explosion of popularity. Despite being more than half a century old, textiles from this period have not lost their appeal.
This exhibition includes a wide variety of artists and textile designers from the era, such as Lucienne Day, John Piper and Marian Mahler. To complement the fabrics on display, the exhibition showcases furniture and home furnishings.