exhibitions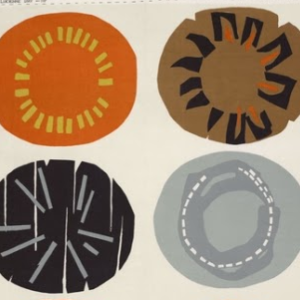 Tales in Textiles: Mid-Century Style
06/

08/

2023
-
08/
27/
2023
Tales in Textiles: Mid-Century Style
McNichols Civic Center Building Third Floor
June 8-Aug. 27, 2023
Mid-Century style in design and furniture is characterized by clean lines and minimalist aesthetics. Furnishing textiles from this period were bold and innovative. The design aesthetic for the patterns drew from modern artists like Alexander Calder and Joan Miró. Innovation in manufacturing allowed for more affordable prices and thus an explosion of popularity. Despite being more than half a century old, textiles from this period have not lost their appeal.
This exhibition includes a wide variety of artists and textile designers from the era, such as Lucienne Day, John Piper and Marian Mahler. To complement the fabrics on display, the exhibition showcases furniture and home furnishings.
In the vein of sustainable fashion design, selvage and remnant fabrics highlighted in the exhibition are available for purchase.

Related Events
Denver Arts & Venues Cultural Runway Series: FashionAbility - July 29, 7 p.m.
Closing Exhibit Reception, Tour, Curator Discussion and Fabric Sale - Aug. 26, 1-4 p.m. - tour and discussion now available as on-demand video.
Cuentos en textiles: estilo de mediados de siglo
Tercer piso del Edificio "McNichols" del Centro Cívico
8 junio al 27 de agosto de 2023
El estilo de mediados de siglo en diseño y mobiliario se caracteriza por líneas limpias y por una estética minimalista. Los textiles de decoración de este período fueron audaces e innovadores. La estética del diseño de los patrones se basó en artistas modernos como Alexander Calder y Joan Miró. La innovación en la fabricación permitió precios más asequibles y, por lo tanto, una explosión en popularidad. A pesar de tener más de medio siglo de antigüedad, los textiles de esta época no han perdido su atractivo.
Esta exposición incluye una amplia variedad de artistas y diseñadores textiles de la época como Lucienne Day, John Piper y Marian Mahler. Para complementar las telas en exhibición, la exposición incluye muebles y accesorios para el hogar.
En la línea del diseño de moda sostenible, el orillo (dobladillo) y los remanentes de las telas destacadas en la exposición estarán disponibles para su compra.
Eventos relacionados
Serie Pasarela Cultural de Denver Arts & Venues: FashionAbility - 29 de julio, 7 p.m.
Recorrido de clausura de la exhibición, conversación con el curador y venta de telas - 26 de agosto, de 1 p. m. a 3 p. m. - recorrido y conversación: ver video