exhibitions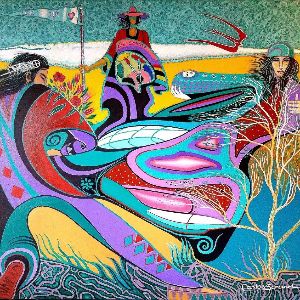 Para mi Pueblo: Chicano/a Muralists of Colorado
09/

14/

2019
-
12/
22/
2019
Para mi Pueblo: Chicano/s Muralists of Colorado
Third floor, McNichols Civic Center Building
September 14 – December 22, 2019
From the late 1960s to the present, Chicano/a muralists have actively transformed the urban landscapes of Colorado, creating public images that celebrate the diversity and history of the state. For more than 50 years, these artists have chronicled both the past and the present, while also offering new visions of a shared future. This exhibition celebrates the visual legacy of Chicano/a muralists as advocates and activists whose art has shaped our communities and given a voice to the people and places of Colorado. Curated by Chicano/a Murals of Colorado Project.
Participating artists: Gregg Deal, DINKC, Victor Escobedo, Carlotta EspinoZa, Javier Flores, Carlos Frésquez, Ernie Gallegos, Anthony Garcia, David Garcia, Jason Garcia, Frank Garza, uc Sepia, Jay Jaramillo, Jerry Jaramillo, JOLT, Karma Leigh, Bobby Lopez, Josiah Lopez, Daniel Lowenstein, Arlette Lucero, Stevon Lucero, Onver Macias, Emanuel Martínez, Andy Mendoza, Tony Ortega, Rebecca Rozales, Carlos Sandoval, Leo Tanguma, Leticia Tanguma.
Related events:
Murales Chicanos en Autobús: Sept. 14, 10 a.m.-3 p.m.
Year of La Chicana Opening Reception: Sept. 21, 5:30-8 p.m. (at History Colorado Center - 1200 Broadway)
McNichols Project: Sept. 21, 6-9 p.m.
Chicano Murals Conference: Oct. 18, 9 a.m.-5 p.m. (at History Colorado Center - 1200 Broadway)
Para mi Pueblo: Murales Chicanos de Colorado
Tercer piso, Edificio "McNichols" del Centro Cívico
Septiembre 14 – Diciembre 22, 2019
Desde finales de la década de 1960 hasta el presente, los muralistas chicanos han transformado activamente los paisajes urbanos de Colorado, creando imágenes públicas que celebran la diversidad y la historia de este estado. Durante más de 50 años, estos artistas han hecho una crónica tanto del pasado como del presente, ofreciendo nuevas visiones de un futuro compartido. Esta exposición celebra el legado visual de los muralistas chicanos como defensores y activistas cuyo arte ha dado forma a nuestras comunidades y ha dado voz a las personas y lugares de Colorado. Curado por el Proyecto de Murales Chicanos/as de Colorado.
Artistas participantes: Gregg Deal, DINKC, Victor Escobedo, Carlotta EspinoZa, Javier Flores, Carlos Frésquez, Ernie Gallegos, Anthony Garcia, David Garcia, Jason Garcia, Frank Garza, uc Sepia, Jay Jaramillo, Jerry Jaramillo, JOLT, Karma Leigh, Bobby Lopez, Josiah Lopez, Daniel Lowenstein, Arlette Lucero, Stevon Lucero, Onver Macias, Emanuel Martínez, Andy Mendoza, Tony Ortega, Rebecca Rozales, Carlos Sandoval, Leo Tanguma, Leticia Tanguma
Eventos relacionados:
Murales Chicanos en Autobús: Septiembre 14, 10 a.m.-3 p.m.
Recepción de Apertura de "El Año de la Chicana": Sept. 21, 5:30-8 p.m. (en el History Colorado Center - 1200 Broadway)
Proyecto McNichols: Septiembre 21, 6-9 p.m.
Conferencia de Murales Chicanos: Oct. 18, 9 a.m.-5 p.m. (en el History Colorado Center - 1200 Broadway)