Capacity and Rates
2023 Rental Rates
last date of revision 2/28/23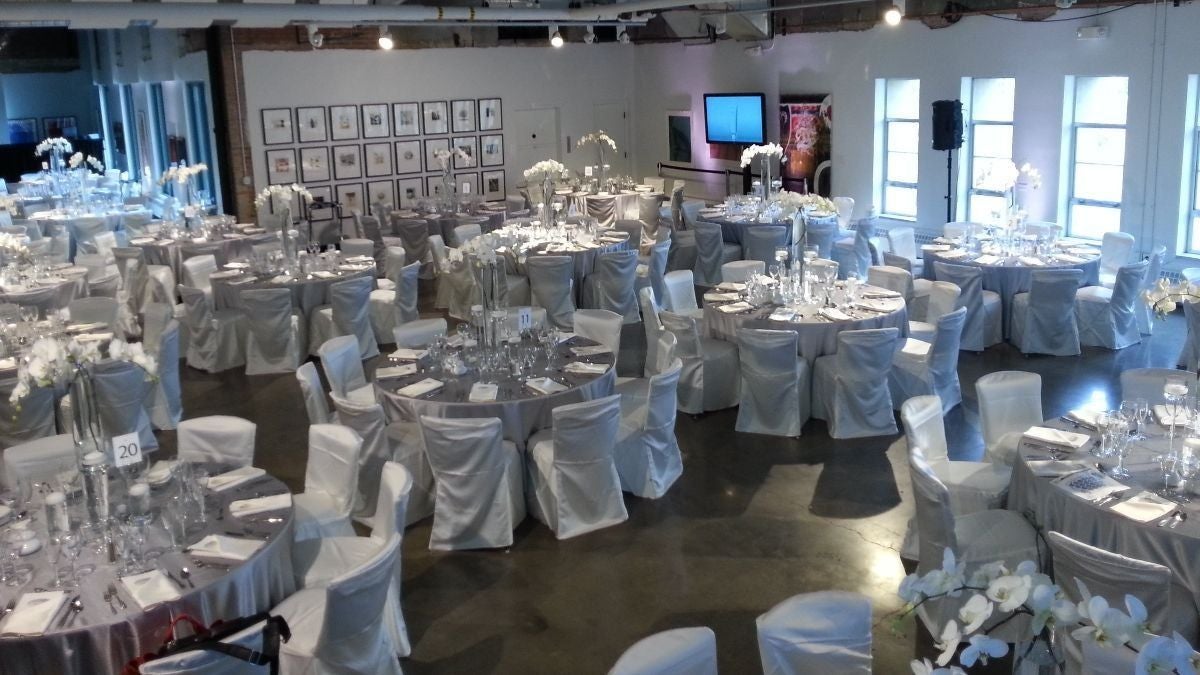 | | | |
| --- | --- | --- |
| Rental Fees (based on standard 10 hour block)i | Commercial Rate | Non-Profit Rateii |
| PREMIUM DATES* | | |
| Use of one floor (second or third floor) | $6,500 | $6,500 |
| Additional floor (second or third floor) | $2,500 | $1,500 |
| Entire venue buyout (includes Carnegie Courtyard, East and West Lawns) | $10,000 | $8,000 |
| NON-PREMIUM DATES | | |
| Sunday - Wednesday: | | |
| Use of one floor (second or third floor) | $4,500 | $3,500 |
| Additional floor (second or third floor) | $2,500 | $1,500 |
| Entire venue buy-out (includes Carnegie Courtyard, East and West Lawns) | $8,000 | $5,500 |
| Thursday - Saturday: | | |
| Use of one floor (second or third floor) | $5,500 | $3,500 |
| Additional floor (second or third floor) | $2,500 | $1,500 |
| Entire venue buy-out (includes Carnegie Courtyard, East and West Lawns) | $9,000 | $5,500 |
| ALL DATES | | |
| Community Gallery (includes first floor lobby and Nook open space) | $2,000 | $1,500 |
| Map Conference Room, half day = up to 5 hours | $500 | $500 |
| Map Conference Room, full day = up to 10 hours | $750 | $750 |
| Carnegie Courtyard (only available in conjunction with indoor rental) | $2,000 | $1,500 |
| East or West Lawns (only available in conjunction with indoor rental) | $1,000 each | $625 each |
| Load-in or load-out day (10 hours) | $3,000 | $2,000 |
*Premium Dates are determined according to historical demand for our event spaces in conjunction with building availability around large annual events in Civic Center Park.
2023:
April 1, 8
May 26, 27, 28
June 10, 11
July 28, 29, 30
August 19, 20
September 24
October 14, 15
Entire Building Buyout includes all permitted interior and exterior spaces (subject to availability due to proximity to large events and festivals in the area).
| | | |
| --- | --- | --- |
| Room Capacity | Banquet Rounds | Reception Style |
| First Floor - Storytime Gallery | 60 | 150 |
| Second Floor - Boettcher Cultural Pavilion | 500 | 1000 |
| Third Floor | 500 | 1000 |
| Full Venue | 1060 | 2200 |
| Carnegie Courtyard | 70 | 200 |
| Map Room | 25 (conference style) | 50 |
Included with rental but may be subject to availability:
• (35) 5.5' round tables
• (40) 6' x 30" banquet tables
• (32) 30" cocktail/cabaret tables
• (350) Padded Banquet chairs
• Two security staff for up to 8 hours each
• Basic setup, tear down and post-clean included in rental rate.
Incidental fees may be charged depending on activity:
• Required security/event staff will be determined by building management based on event details. Please work with your event coordinator to request a good faith estimate. $40/hour per guard with a 4-hour minimum.
• Custodial staffing - $45/hour per staff member with a 4-hour minimum.
• Additional labor costs will be applied if waste streams (recycling and compost) are contaminated. Cost is $45/hr per staff member with a 4-hour minimum.
Additional Rental Items (For a complete list of rental items rates please contact your event coordinator)
• (12) 4' x 8' stage panels with 16" or 8" rise: $50 per section (setup and breakdown included in cost)
• Audio/Visual equipment – please inquire for rates and specs.
To book the McNichols Civic Center Building for public or private events, please complete our booking form. To make an appointment to view the space, please contact: Angelo Powell-Sharp at angelo.powell-sharp@denvergov.org, 720.865.5555.
Festivals and Events in Civic Center Park and Surrounding Areas:
Festivals and events interested in utilizing the McNichols Building should refer to our published rental rates. Festivals interested in renting only our outdoor spaces, including the parking lot, West Lawn, and/or East Lawn (Carnegie Courtyard not included), must meet the following terms and conditions: The McNichols Building cannot have any other reservations on the books during your rental request. You must agree to clean and power wash any areas utilized, and return those areas to their pre-festival conditions. Fully executed contract, incidental costs and damage deposit apply for all rentals. If you need to block access to the parking area or Park Access Road, you will be required to provide alternative parking for all McNichols' permitted parkers either at bagged meters or parking lots in the immediate area (please see McNichols Property Guidelines and Maps document).
IAll room rental rates, excluding rates for the Map Conference Room, are based on a 10-hour block. That block includes set-up and tear down times. If you require more time, charges will be applied ($500/hour for commercial clients, $300/hour for non-profits). If clients exceed their contracted times, charges will be applied and taken from the damage deposits first. Client will be billed directly for any charges that remain after damage deposits are exhausted. The City and County of Denver reserves the right to adjust rental rates at any time unless there is a fully executed contract in place.
IINon-Profit: organizations that hold a 501(c)(3) status, excluding organizations with 501(c)(6) status, which are defined as: "business leagues, chambers of commerce, real-estate boards, boards of trade, or professional football leagues (whether administering a pension fund for football players), not organized for profit and no part of the net earnings of which insures to the benefit of any private shareholder or individual."