Lumonics event: Lil Sum'n Sum'n
McNichols Building
04/21/2018 · 7:30PM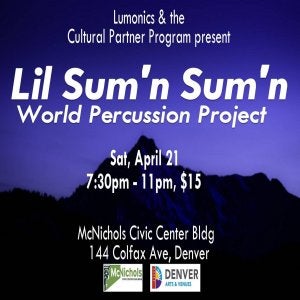 Lumonics & the Denver Arts & Venues Cultural Partner Program Present:
Lil Sum'n Sum'n World Percussion Project
Special Guest: Beth Quist
Sat. April 21
Doors open at 7:30 pm
Performance begins at 8 pm
$15
Join world percussion duet Lil Sum'n Sum'n with special guest Beth Quist for a night of enchanting primal rhythm and ethereal melodies. Gilly Gonzalez and Lisa Wimberger play a fusion of cultural percussion influenced from Arabic and Hindustani to West African and Latin beats. Beth's world-class vocals featured in Cirque du Soleil add a melodic journey not to be missed.
Video by Lumonics' Dorothy Tanner and Marc Billard.
Plant-based snacks by The Shooting Star Eatery.
It all takes place in Dorothy Tanner's site-specific installation, the Lumonics Mind Spa, on the first floor of the McNichols Civic Center Building.