Fashion for Every Body - virtual tour and discussion with Darlene Ritz and DeMarcio Slaughter
McNichols Building
06/21/2022 · 3:30PM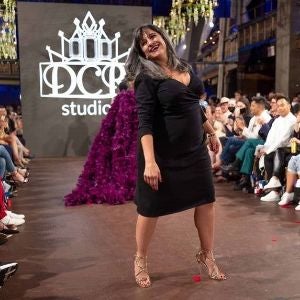 Join Shanna Shelby, Denver Arts & Venues, Darlene Ritz, DCR Studios fashion designer, and DeMarcio Slaughter, Emcee and Entertainment Coordinator of the Center Stage at Denver PRIDEFest for a virtual tour and discussion of "DCR Studios and DeMarcio: Creating the Glamour on Center Stage at Denver PRIDE" on display at McNichols Civic Center Building June 1-30, 2022.
Darlene will discuss the fashion on display and the inspiration for the exhibit, as well as designing with gender fluidity, size inclusivity and cultural diversity in mind. DeMarcio will his work as the Emcee and Entertainment Coordinator for PRIDEFest. This event and the related exhibit are in conjunction with PRIDE month.
This event is free and open to the public, but people must register in order to get a link and instructions to join the discussion.
About the Exhibition:
PRIDE started as a police raid; a riot really – in the early morning hours on June 28, 1969. What started as a fight for the right to be one's true self and authentically human, has become a celebration of love and acceptance. PRIDE, often referred to as PRIDEFest, has grown into a safe space to love who we are as individuals, and embrace our unique community.
With the addition of some glitter, a few feathers and sequins – well, now we've got ourselves a party!
DeMarcio, the Emcee & Entertainment Coordinator of the Center Stage at Denver PRIDEFest, aims to motivate and inspire those in the audience who may feel different and alone. His goal is to reach into the hearts of those watching, and show them the juiciness which comes with a life fully lived. At its core, that is what PRIDEFest is: the opportunity to truly live authentically and showcase each person's unique identity.
Clothes help us do this too –Fashion is for every body, and everybody's different body. We all deserve the right to feel comfortable in our clothes. Fabric knows no gender beyond what we, as a society, apply to it. Each of us deserves to wear what makes us feel cute, sexy or strong… to feel our very best. We all have the commonality of wearing clothes, and a simple layer of fabric is the only thing between us and our environment. We must be able to navigate this environment with confidence – in all honesty, it's difficult to have a bad day in a good pair of shoes.
This exhibit celebrates all of the forementioned, and the joy clothing brings to the PRIDE movement. Let us never forget that self-expression includes being able to dress and present ourselves in the fabric of life that best suits each and every one of us. Fashion is for every body, and everybody's different body.
For Spanish and Interpretation Translation Services: BROOKE.DILLING@DENVERGOV.ORG
For American Sign Language (ASL) Interpreter or Cart Services: SIGNLANGUAGESERVICES@DENVERGOV.ORG
For Other Disability Accommodations: DISABILITYACCESS@DENVERGOV.ORG