ESU National Shakespeare Competition Workshop
McNichols Building
01/16/2022 · 1:00PM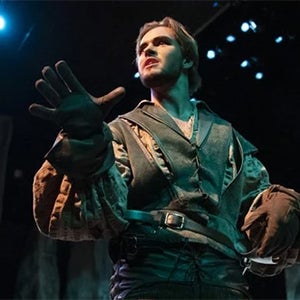 The ESU National Shakespeare Competition is a performance-based education program in which high school students read, analyze, perform and recite Shakespeare's works. Since 1983, the competition has helped more than 400,000 young Americans develop communication skills and an appreciation for language and literature.
Students interested in competing select one Shakespeare monologue and sonnet from the attached pre-approved list to perform in their particular high school. Teachers from each participating school will then hold a competition to select one student winner to perform this material at the Denver Branch competition February 13, 2022 hosted by Visionbox Studio at McNichols Civic Center Building in downtown Denver. (Individual school competitions must be held by 1/28/22. Teachers must submit their winners by 1/28/22.) The Denver Branch winner will be submitted for the national competition, and 10 finalists from across the country will be selected to compete in New York City at Lincoln Center in spring 2022.
Visionbox Studio is excited to collaborate again this season as the professional theatre liaisons for the 2022 English Speaking Union Shakespeare Competition to help prepare teachers and students for the Colorado Branch and National competition.
Jennifer McCray Rincon, Founding Artistic Director of Visionbox Studio and former Head of Acting at The National Theatre Conservatory at the DCPA, will lead one free 3-hour workshop for students interested in participating in the competition at McNichols Civic Center Building Sunday, January 16 from 1-4pm. Free workshops will also be presented by Visionbox at Colorado ThesCon December 2-4. Workshops will focus on Shakespeare acting, scansion, and selection of material. Visionbox is also available to come work with students at individual high schools. More information and Workshop registration.
For more information and to participate in this competition please register your school online.
The deadline for area schools to register is 12/10/21, and the deadline for area schools to submit winner forms is 1/28/22. For additional questions regarding the competition contact Cynthia Poinsett at cpoinsett@cherrycreekschools.org.