In Sickness and In Health: virtual tour and discussion with Mary Grace Bernard and Genevieve Waller
McNichols Building
06/29/2022 · 11:00AM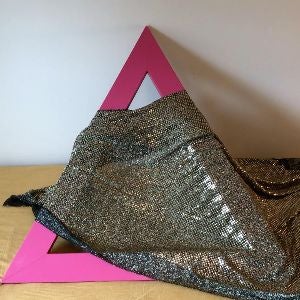 Join Shanna Shelby, Mary Grace Bernard, and Genevieve Waller to discuss the artwork featured in "In Sickness and In Health"
About this event
Join Shanna Shelby, Denver Arts & Venues, and guest curators, Mary Grace Bernard and Genevieve Waller, in a virtual tour and discussion about "In Sickness and In Health" on display at McNichols Civic Center Building June 1-30, 2022.
Mary Grace and Genevieve will discuss the artworks on display and the inspiration for the exhibit, as well as the intersections of disability - and illness in particular - with queer and feminist critiques of marriage, patriarchy in the home, and dominant hetero imaginings of domestic space and sexualities. This event and the related exhibit is in conjunction with PRIDE month.
This event is free and open to the public, but people must register in order to get a link and instructions to join the discussion.
About the exhibition: Most of us know the saying "in sickness and in health, 'til death do us part." This common wedding vow conjures up images of an idealized future between two people and their devotion despite life's ups and downs. But what else does this phrase indicate?
Historically, this pledge has been part of a wedding ceremony for two heterosexual, opposite-gender, able-bodied individuals. Marriage between lesbian women or gay men was only made legal in the U.S. in 2015, and today it is still very difficult for disabled individuals to get married at all. The promise of "in sickness and in health" takes on new dimensions, however, when we think outside of the social construct of marriage and of what it means for those who cannot or do not marry.
In this exhibition, which includes photography, video, multimedia, installation, performance documentation and text, guest curators Mary Grace Bernard and Genevieve Waller bring together works by artists who examine illness, human relationships and the domestic sphere, in order to delve into alternative visions of devotion. The artists explore disability (physical, mental, visible, invisible, etc.) as it impacts people of color, and femme, non-binary and queer bodies in particular, including the historic, ongoing suffering and toll that HIV/AIDS has taken on LGBTQ+ individuals. The artists also look at the ways that private and gendered spaces become a battleground for promoting an ethos of care where the labor of caretaking must be valued by all.
For Spanish and Interpretation Translation Services: BROOKE.DILLING@DENVERGOV.ORG
For American Sign Language (ASL) Interpreter or Cart Services: SIGNLANGUAGESERVICES@DENVERGOV.ORG
For Other Disability Accommodations: DISABILITYACCESS@DENVERGOV.ORG