exhibitions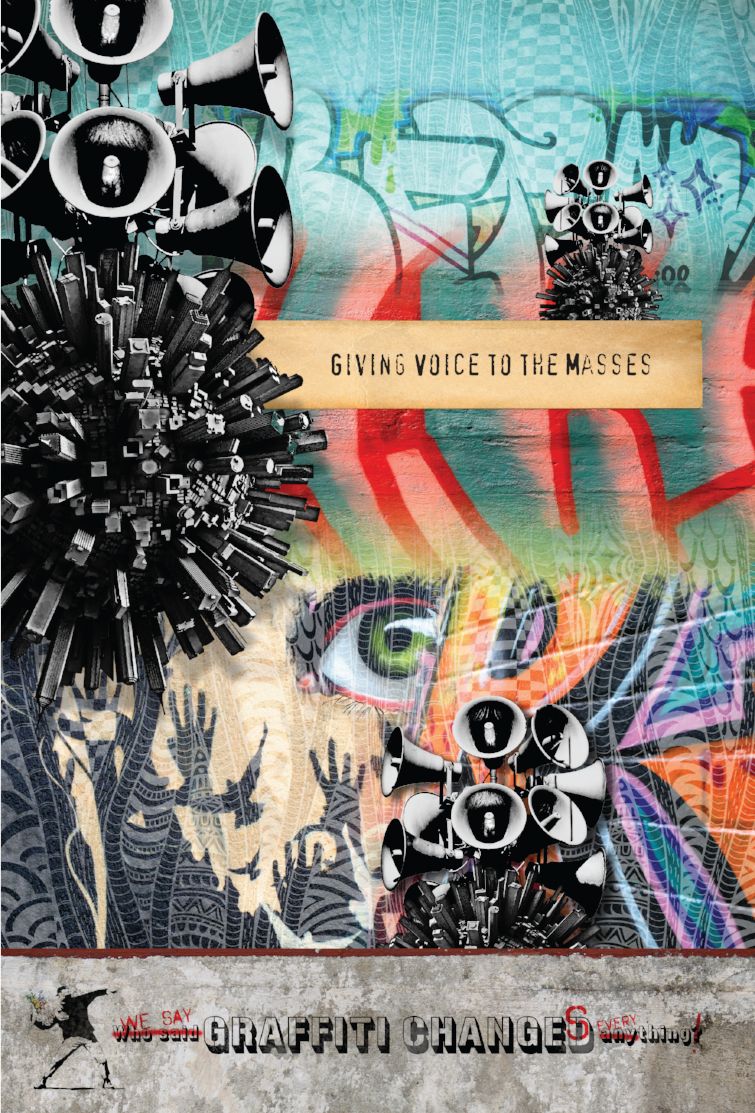 Giving Voice: Posters with a Message from Teens with Disabilities
04/

21/

2018
-
08/
26/
2018
Giving Voice: Posters with a Message from Teens with Disabilities
Boettcher Cultural Pavilion, 2nd Floor
April 21 – August 26, 2018
Giving Voice is a partnership between Access Gallery and professional graphic designers from the greater Denver Metro Area. The program is designed to empower teens living with disabilities to give voice to a social cause that's important to them. Working with professional graphic design mentors, the teens share their views on a significant cause and in partnership, they work to develop and produce a graphic image that captures their views and commitment to critical social issues. This collaborative model has received national attention and has inspired other states from Texas to New York. This exhibition highlights 40 posters from the past ten years of the program, and subjects range from addiction to hunger, school bullying to suicide prevention, and from immigration to climate change.
Director's Statement:
It is rare in the nonprofit world for a program to run for 10 years. Like so many things at Access Gallery, we started with no budget and a fingers-crossed approach. The thought was simple, I wondered what would happen if we asked young people with disabilities what was important to them. Let's face it, no one asks kids what is important to them, much less students with disabilities. I have always been amazed at a graphic designer's ability to take a series of my ideas and creative drafts and turn them into an impactful image. I wanted to see if that type of approach would work with a group of talented people who is too often overlooked. Our first project had four or five students, each working with a designer. The posters were of course amazing, but for me the magic was seeing our students find a voice - their ideas and their thoughts mattered. They had something to say and we were determined to listen. These posters are but a sampling of the posters designed over the years. I am extremely proud of this project and its impact on our community.
- Damon McLeese, Executive Director, Access Gallery

Giving Voices - June 29, 6 p.m.
---
Proveyendo Voces: Afiches con un mensaje de adolescentes con incapacidades
Pabellón Cultural Boettcher
21 de abril - 26 de agosto de 2018
Giving Voice (Proveyendo Voces) es un trabajo conjunto de Access Gallery y profesionales de diseño gráfico en la zona metropolitana de Denver. El programa está diseñado para capacitar a adolescentes con incapacidades (habilidades diferentes) para darle voz a causas sociales importantes para ellos. Los profesionales de diseño gráfico actúan como mentores y los adolescentes comparten sus puntos de vista sobre una causa importante. Trabajando juntos, diseñadores y adolescentes desarrollan y producen imágenes que capturan sus puntos de vista y su compromiso con temas sociales críticos. Ese modelo de colaboración ha recibido atención nacional y ha inspirado a otros estados, desde Texas a Nueva York. La exhibición incluye 40 afiches de los últimos diez años y los temas incluyen adicción, hambre, acoso escolar, prevención del suicidio, inmigración y cambio climático, entre otros.
Declaración del director:
En el mundo de las organizaciones no lucrativas es raro que un programa dure 10 años. Como en muchos otros casos en Access Gallery, comenzamos sin presupuesto y esperando lo mejor. La idea era simple: me pregunté qué pasaría si le preguntamos a personas con incapacidades qué cosas ellos consideran importante. Seamos honestos: nadie les pregunta a los niños lo que es importante para ellos, muchos menos a aquellos con incapacidades. Siempre me ha asombrado la habilidad de los diseñadores gráficos para tomar una serie de mis ideas y crear bocetos y crear una imagen impactante. Quería ver si ese mismo tipo de enfoque serviría para trabajar con un grupo de talentosas personas que con frecuencia no son consultadas. Nuestro primer proyecto incluyó cuatro o cinco estudiantes, cada uno trabajando con un diseñador. Los afiches fueron, obviamente, asombrosos, pero la magia fue darles voces a sus estudiantes. Sus ideas y pensamientos son lo más importante. Los adolescentes tenían algo que decir y nosotros estábamos dispuestos a escuchar. Los afiches son sólo una muestra de los numerosos afiches creados a lo largo de los años. Me siento extremadamente orgulloso de este proyecto y de su impacto en la comunidad.
- Damon McLeese, Director Ejecutivo, Access Gallery