exhibitions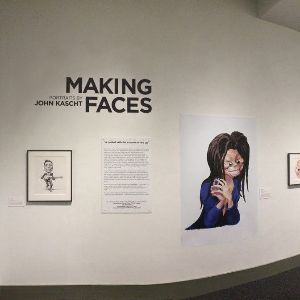 Making Faces
04/

21/

2019
-
08/
24/
2019
Making Faces, the Art of John Kascht
April 21-August 24, 2019
Boettcher Cultural Pavilion, 2nd floor
John Kascht is one of the most celebrated caricature artists of the past 50 years.
"No red carpet stalker has observed celebrities more closely than caricature artist John Kascht." - Smithsonian
"With his impeccable eye, deft hand and wry commentary, caricaturist Kascht delineates in a way that feels more factual than exaggerated." - The Washington Post
Since beginning his career as a freelance illustrator at the age of 14, John's irreverent illustrations have appeared in most major US publications and on book covers, billboards, album covers and Broadway marquees.
In recent years John has also written and produced film and multimedia features, adding another dimension to his trademark examinations of political and celebrity culture. Notably, he teamed up with Conan O'Brien on the film "Funny Bones: Anatomy of a Celebrity Caricature" for the Smithsonian Institution's educational networks.
Considered a contemporary master of satirical portraiture, John has been the subject of documentary segments for the PBS and the Discovery Channel.
The National Portrait Gallery lauds John as "a keen and insightful observer of human nature who forces us to look at our public figures with new eyes." Two dozen of his works are in the Portrait Gallery's permanent collection.
Related Events: McNichols Project, May 11
Making Faces (Creando Rostros), el arte de John Kascht
21 de abril al 24 de agosto de 2019
Pabellón Cultural Boettcher, 2º piso
John Kascht es uno de los más celebrados caricaturistas de los últimos 50 años.
"Nadie que haya estado tan cerca de las celebridades las ha observado más de cerca que el caricaturista John Kascht." - Smithsonian
"Con su ojo impecable, mano precisa y astuto comentario, el caricaturista Kascht delinea de una manera que se siente más real que exagerada." - The Washington Post
Desde que comenzó su carrera como un ilustrador independiente a los 14 años, las ilustraciones irreverentes de John han aparecido en algunas de las mayores publicaciones de Estados Unidos, incluyendo tapas de libros, carteles de gran tamaño, tapas de discos y marquesinas de Broadway.
En los últimos años, John ha escrito y producido películas y creaciones en multimedia, agregando una nueva dimensión a su conocida manera de examina la cultura de políticos y celebridades. Notablemente, John se asoció con Conan O'Brien para la película "Funny Bones: Anatomy of a Celebrity Caricature", para la red educativa de Smithsonian Institution.
Considerado como un maestro contemporáneo del retrato satírico, John ha sido el tema de segmentos en varios documentales de PBS y de Discovery Channel.
La National Portrait Gallery (Galería Nacional de Retratos) reconoce a John como "un agudo y perspicaz observador de la naturaleza humana que nos fuerza a mirar a las figuras públicas con nuevos ojos". Dos docenas de las obras de John forman parte de la colección permanente de la Galería Nacional de Retratos.