exhibitions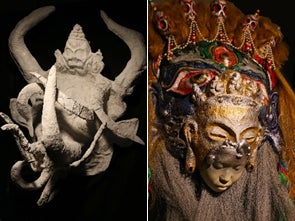 Border
03/

06/

2020
-
06/
30/
2020
BORDER
First Floor Community Gallery
March 6-April 30, 2020
BORDER is a solo exhibit of works by Mongolian artist Tsogo Mijid featuring a mix of contemporary paintings, Tsam dance masks and soft sculpture works, curated by Eriko Tsogo. This exhibition is the outcome of Mijid's residency with the International Yurt Art Residency Program in collaboration with the Mongolian Culture and Heritage Center of Colorado, and is supported by Denver Arts & Venues Cultural Partner Program.
BORDER offers a critical review on themes of immigration and the marginalized identity, inspired by first-person narratives of the artist's life dating back two decades of residency in Colorado since his immigration to Denver from Mongolia.
Born in 1965 in Ulaanbaatar, Tsogo Mijid lives and works as an artist, arts administration professional, and art educator in Denver. Tsogo has had numerous solo and select group exhibitions in Mongolia, Hungary, Germany, Russia and the United States. His artworks are owned by Nobel Peace Prize laureate the 14th Dalai Lama, and the Denver Art Museum, with permanent installations at the Denver Zoo and Meow Wolf Denver. Tsogo remains one of the few Mongolian artists in the world to follow in the ancient art of the Mongolian Tsam mask-making tradition.
Over the course of his 35-year career, Tsogo's commitment to creating powerful images of the marginalized life is unwavering. Having lived through various political systems in many different countries, Tsogo remains a versatile artist whose different art practices continues to reflect his migratory experiences. In each of the cities where he has lived over the course of his career, Tsogo continues to be a key figure merging both Western and Eastern cultures.
The International Yurt Art Residency Program (IYARP) was founded by Mongolian American artist Eriko Tsogo in collaboration with the Mongolian Culture and Heritage Center of Colorado in 2018. Every year IYARP awards two multi-disciplinary artists a one to three-month cross-cultural residency studio exchange experience in a traditional Mongolian yurt. IYARP has a multi-fold mission to create cross-cultural artist exchanges between Colorado and Mongolia, and encourage artistic and cultural enrichment through diversity, while promoting social justice, academic discourse and creative capital surrounding social policy and environmental sustainability on a cross-cultural platform.
Founded in 2004, the Mongolian Culture and Heritage Center of Colorado is committed to the preservation, cultivation and advancement of the rich Mongolian culture and heritage through the inspiration of the arts, education and cross-cultural exchange for the greater Mongolian and surrounding world communities.
Related events:
Exhibit Reception: Saturday, March 7, 5-7 p.m.
In order to maintain a safer visitation experiences, McNichols Building exhibitions are free and open to the public. Following Safer-At-Home guidelines, groups of eight people or fewer can make appointments online for a two-hour time slot starting Monday, June 15, daily 8:30-10:30 a.m., 11:30 a.m.-1:30 p.m. or 2:20-4:30 p.m. Please visit artsandvenues.wufoo.com/forms/mcnichols-building-reservation-request to make an appointment.
BORDER
Primer Piso: Galería Comunitaria
6 de marzo al 30 de abril de 2020
BORDER (Frontera) es una exhibición individual del artista de Mongolia Tsogo Mijid, incluyendo diferentes pinturas contemporáneas y esculturas blandas Tsam, curadas por Eriko Tsogo. Esta exhibición es el resultado de la residencia de Mijid en el Programa "Yurt" de Residencia Artística, en colaboración con el Centro de Cultura y Tradición de Mongolia en Colorado y con el respaldo del Programa de Socios Culturales de Denver Arts & Venues.
BORDER ofrece una revisión crítica sobre temas de inmigración y de la identidad marginada, inspirada en narraciones en primera persona de la vida del artista que datan de dos décadas de residencia en Colorado desde su inmigración desde Mongolia a Denver.
Nacido en 1965 en Ulán Bator (la capital de Mongolia), Tsogo Mijid vive y trabaja como artista, profesional de administración de artes y educador de arte en Denver. Tsogo ha realizado numerosas exposiciones individuales y colectivas en Mongolia, Hungría, Alemania, Rusia y Estados Unidos. Sus obras de arte son de propiedad del premio Nobel de la Paz, el 14 ° Dalai Lama, y del Museo de Arte de Denver, con instalaciones permanentes en el Zoológico de Denver y Meow Wolf Denver. Tsogo sigue siendo uno de los pocos artistas mongoles en el mundo que sigue el antiguo arte de la tradición de fabricación de máscaras Tsam de Mongolia.
En el transcurso de sus 35 años de carrera, el compromiso de Tsogo para crear imágenes poderosas de la vida marginada se ha mantenido inquebrantable. Después de haber vivido a través de diversos sistemas políticos en muchos países diferentes, Tsogo sigue siendo un artista versátil cuyas diferentes prácticas artísticas continúan reflejando sus experiencias migratorias. En cada una de las ciudades donde ha vivido a lo largo de su carrera, Tsogo sigue siendo una figura clave que fusiona las culturas occidental y oriental.
El Programa Internacional "Yurt" de Residencia Artística (IYARP) fue fundado por el artista mongol estadounidense Eriko Tsogo en colaboración con el Centro de Cultura y Tradición de Mongolia de Colorado en 2018. Cada año IYARP premia a dos artistas multidisciplinarios con una experiencia de residencia de intercambio intercultural de uno a tres meses de estudio en una yurta tradicional (vivieda móvil circular de los mongoles) en Mongolia. IYARP tiene una misión múltiple de crear intercambios de artistas interculturales entre Colorado y Mongolia, y fomentar el enriquecimiento artístico y cultural a través de la diversidad, al tiempo que promueve la justicia social, el discurso académico y el capital creativo en torno a la política social y la sostenibilidad ambiental en una plataforma intercultural.
Fundado en 2004, el Centro de Cultura y Tradición de Mongolia de Colorado está comprometido con la preservación, el cultivo y el avance de la rica cultura y patrimonio tradicional de Mongolia a través del fomento de las artes, la educación y el intercambio intercultural para las grandes comunidades mundiales de Mongolia y sus alrededores.
Eventos relacionados:
Recepción de Apertura: Sábado 7 de marzo de 5 p.m. a 7 p.m.
Con el fin de mantener una experiencia de visita más segura, las exhibiciones del Edificio McNichols son gratuitas y abiertas al público. Siguiendo las pautas de Safer-At-Home, grupos de ocho personas o menos pueden hacer citas en línea para un horario de dos horas a partir del lunes 15 de junio, diariamente: 8:30-10:30 a.m., 11:30 a.m.-1:30 p.m. o 2:20-4:30 p.m. Visitar artsandvenues.wufoo.com/forms/mcnichols-building-reservation-request para hacer una cita.