exhibitions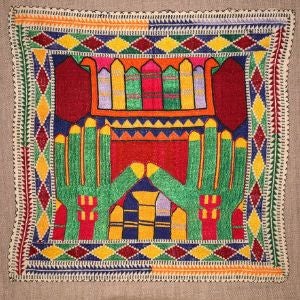 Culture Cloth
09/

15/

2023
-
01/
14/
2024
Culture Cloth
McNichols Civic Center Building, 3rd floor
September 15 - January 14, 2024
Exhibition Hours: Open Daily 10 a.m.-4 p.m. unless otherwise noted on the calendar. 
Co-curated by Paul Ramsey, independent expert and gallery owner, and Shanna Shelby, chief curator for Denver Arts & Venues, this exhibition explores multiple cultures through the lens of cloth and textiles, including clothing. Entitled Culture Cloth, this exhibition looks to the historic importance of a variety of materials and cloth. For more than forty years, Paul Ramsey has traveled widely in Asia focusing on cultural textiles. A central part of this cultural expression is rug weaving, primarily in West and Central Asia, including the "Middle East."
Paul and his partner opened Shaver-Ramsey in 1976. His love and knowledge of rugs has put Shaver-Ramsey on the map as one of the premier rug stores in the United States.
With more than 20 years of experience curating, Shelby has guest curated for many institutions nationally and internationally. In 2022, Shelby started curating fashion shows in addition to art exhibitions and produces Denver Arts & Venues Cultural Runway Series.
To arrange a free, guided tour of this exhibition, please email Shanna.Shelby@denvergov.org.
Featured Fabrics:
Kilim - a word of Turkish origin, denotes a pileless, weft-faced rug produced by local people for their own use in western Asia, including Iran and Turkey, as well as adjacent areas including eastern Europe. Coming from tribal traditions, they are known for their bold geometries and rich natural-dye colors. They can be purely decorative, though generally serve to cover floors or provisions, or are displayed as hangings. Prayer rugs are also woven in kilim techniques.
Ikat - Ikat is a dyeing technique used to create a distinct style of textile patterns. Ikat is done by resist dyeing sections of the yarns prior to weaving the fabric. In Ikat, the resist is formed by binding individual yarns or bundles of yarns with a tight wrapping applied in the desired pattern. Ikat dyeing is practiced in regions such as Indonesia, India, Central Asia, Southeast Asia, Japan, Africa and Latin America. Culture Cloth features Ikat fabrics from several countries.
Kente - Kente refers to a Ghanaian textile, made of handwoven cloth, strips of silk and cotton. Historically, the fabric was worn in a toga-like fashion by royalty among the Akan. It originated from Bonwire in the Ashanti region of Ghana. Due to the popularity of Kente cloth patterns, Kente print, which is a mass-produced version, is popular throughout the West.
Huipil - Huipil is the most common traditional garment worn by indigenous women from central Mexico to Central America. It is a loose-fitting tunic, generally made from two or three rectangular pieces of fabric, which are then joined with stitching, ribbons or fabric strips. Traditional Huipils, especially ceremonial ones, are usually made with fabric woven on a backstrap loom and are decorated with designs woven into the fabric, as well as embroidery, ribbons, lace and more. The Huipil has been worn by indigenous Mesoamerican women since well before the Spanish invasion.
Hazara Prayer Cloths - These textiles are made to serve in the ritual of prayer. They are typically 12 to 14 inches square. Often showing religious references such as a mosque (said to refer to the shrine in Karbala, a holy site for Shiite Muslims of which the majority of Hazara are adherents). Many show paired hands presumed to be a reference to hands used in prayer. Nonetheless, there is a great diversity among the distribution of Hazara within Afghanistan concentrated in the center of the country, as well as in nearby countries. These prayer cloths, or mohr posh, frequently refer to religious themes such as scripted references to Ali, and often have a small rectangle for placement of the mohr-i-namaz, or 'prayer stone'. They are hand-stitched using a counted stitch embroidery and generally are silk or cotton thread on a cotton foundation. Nearly all the surviving cloths of this type are 20th century.
Related Events:
Opening Reception – Sept. 14, 5-7 p.m.
Culture Cloth Tour and Discussion - now available as an on-demand video
Open Casting Call – Sept. 16, 1-3 p.m.
Denver Arts & Venues Community Impact Day – Oct. 8, 11-4 p.m.
Denver Arts & Venues Cultural Runway: Community – Oct. 14, doors 5 p.m., runway show 8 p.m.
Curator discussion and tour – Nov. 9, noon, in conjunction with Denver Arts Week
Culture Cloth
Edificio McNichols del centro cívico, 3er piso 
15 de septiembre - 14 de enero de 2024
Curada en conjunto por Paul Ramsey, experto independiente y galerista, y Shanna Shelby, curadora jefe de Denver Arts & Venues, esta exposición explora diversas culturas a través del lente de los tejidos y los textiles, incluida la ropa. Titulada Culture Cloth (Tejidos Culturales), esta exposición analiza la importancia histórica de distintos materiales y telas. Durante más de cuarenta años, Paul Ramsey ha viajado por Asia centrándose en la cultura textil. Una parte central de esta expresión cultural es el tejido de alfombras, principalmente en Asia Occidental y Central, incluido "Medio Oriente".  
Paul y su socio abrieron Shaver-Ramsey en 1976. Su amor y conocimiento de las alfombras ha transformado a Shaver-Ramsey en una de las principales tiendas de alfombras de Estados Unidos. 
Con más de 20 años de experiencia en curaduría, Shelby ha sido curadora invitada en innumerables instituciones a nivel nacional e internacional. En 2022, Shelby empezó a curar desfiles de moda, además de exposiciones de arte, y produce Denver Arts & Venues Cultural Runway Series. 
Telas presentadas:
Kilim: palabra de origen turco que designa una alfombra sin pelo y con trama producida por la población local para su propio uso en Asia occidental, incluidos Irán y Turquía, así como en zonas adyacentes como Europa oriental. Procedentes de tradiciones tribales, son conocidas por su geometría atrevida y sus ricos colores de tintes naturales. Pueden ser puramente decorativas, aunque generalmente sirven para cubrir suelos o provisiones, o se exhiben como tapices. Las alfombras de oración también se tejen con la técnica de kilim. 
Ikat - El ikat es una técnica de teñido utilizada para crear un estilo distintivo de motivos textiles. El ikat se hace tiñendo secciones de los hilos antes de hacer el tejido. En el ikat, el diseño se forma uniendo hilos individuales o haces de hilos con una envoltura apretada aplicada en el patrón deseado. El teñido del ikat se practica en regiones como Indonesia, India, Asia Central, Sudeste Asiático, Japón, África y América Latina. Culture Cloth presenta tejidos ikat de varios países.
Kente - El kente es un tejido ghanés hecho a mano con tiras de seda y algodón. Históricamente, la realeza akan usaba este tejido a modo de toga. Se origina en Bonwire, en la región ghanesa de Ashanti. Debido a la popularidad de los patrones de la tela kente, el estampado kente, que es una versión producida en serie, es popular en todo Occidente. 
Huipil - El huipil es la prenda tradicional más común que usan las mujeres indígenas desde el centro de México hasta América Central. Se trata de una túnica de corte holgado, generalmente confeccionada con dos o tres piezas rectangulares de tela, que luego se unen con costuras, cintas o tiras de tela. Los huipiles tradicionales, sobre todo los ceremoniales, suelen estar hechos con tela tejida en telar de cintura y decorados con diseños tejidos en la tela, así como bordados, cintas, encajes y mucho más. El huipil ha sido usado por las mujeres indígenas mesoamericanas desde mucho antes de la conquista española. 
Pañuelos de oración Hazara - Estos tejidos se confeccionan para servir en el ritual de la oración. Suelen medir entre 12 y 14 pulgadas cuadradas. Por lo general muestran referencias religiosas, como una mezquita (se dice que se refiere al santuario de Karbala, lugar sagrado para los musulmanes chiíes, del que son adeptos la mayoría de los hazara). Muchos muestran pares de manos, se presume que en referencia a las manos que se usan durante la oración. Sin embargo, existe una gran diversidad en la distribución de los hazara dentro de Afganistán, concentrados en el centro del país, así como en los países vecinos. Estos pañuelos de oración, o mohr posh, suelen referirse a temas religiosos, como referencias escritas a Alí, y por lo general tienen un pequeño rectángulo para colocar el mohr-i-namaz, o "piedra de oración". Se bordan a mano usando la técnica de bordado a puntos contados, generalmente con hilo de seda o algodón sobre una base de algodón. Casi todos los pañuelos que se conservan de este tipo son del siglo XX.
Eventos relacionados
Recepción inaugural - 14 de septiembre, de 5.00 a 7.00 p.m.
Visita y debate "Culture Cloth" - vídeo
Casting abierto - 16 de septiembre, de 1.00 a 3.00 p.m.
Día del impacto comunitario del arte y lugares de Denver - 8 de octubre, de 1.00 p.m. a 4.00 p.m.
Pasarela cultural del arte y lugares de Denver: Comunidad - 14 de octubre, 5 p.m., pasarela 8 p.m.
Debate y visita guiada con el curador - 9 de noviembre, 12 p.m., con motivo de la Semana de las Artes de Denver