exhibitions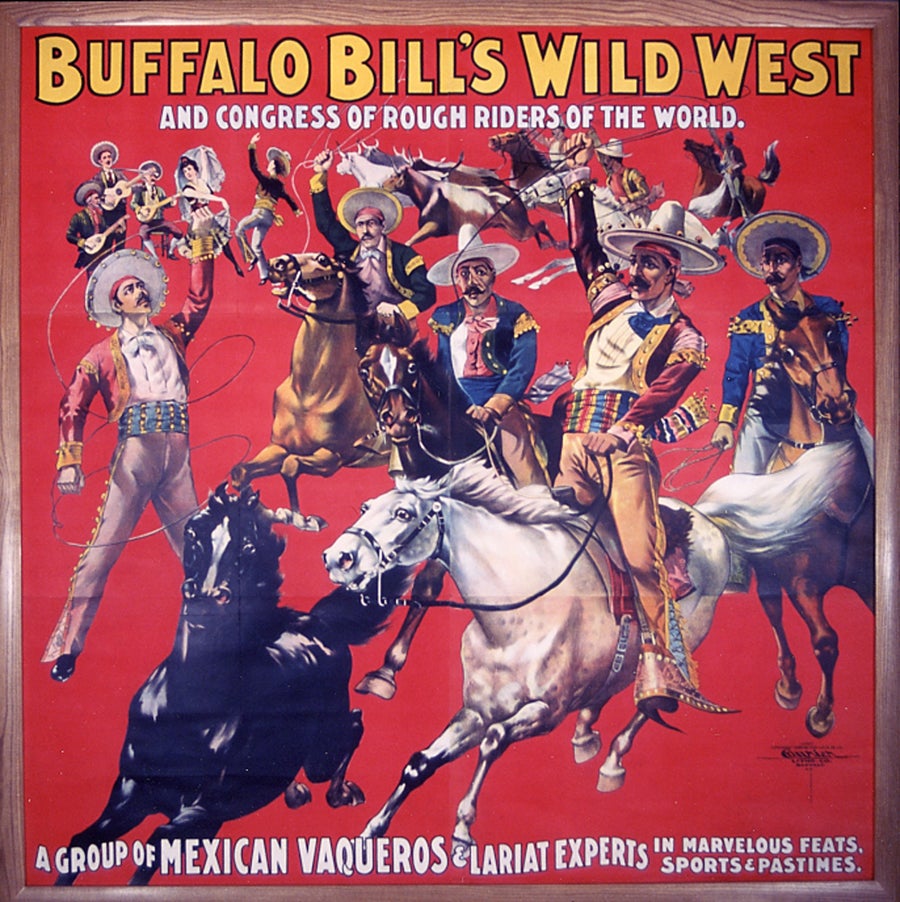 Diversity in the Wild West: Buffalo Bill Posters
05/

20/

2017
-
08/
27/
2017
Diversity in the Wild West: Buffalo Bill Posters
Boettcher Cultural Pavilion, 2nd floor
May 20 - August 27
2017 marks the 100-year anniversary of William F. "Buffalo Bill" Cody's death in Denver. In honor of this centenary, Denver Arts & Venues highlights the diversity in his Wild West shows by borrowing from the poster collection of the Buffalo Bill Museum and Grave in Golden.
From its beginning in 1883, the role of the American Indian was essential to Buffalo Bill's Wild West. Each year Buffalo Bill hired between 40 and 120 American Indians for his Wild West, depending on the overall size of his troupe and how well the show had been doing.
Women also played a featured role in the Wild West show. A popular event during the performance was a horse race between women from three countries, United States, Spain and India. Renowned sharpshooter Annie Oakley performed in Buffalo Bill's Wild West for sixteen years. She was the first female star and she helped open rodeos to women. During her time performing with the troupe, Annie bested all challengers, male or female, at marksmanship.
By the 1890s, the Wild West show began to feature acts and performers from the far East, adding variety and intrigue. The show eventually became one of the most popular traveling shows in the world, employing performers from every continent (except Antarctica). Buffalo Bill advocated for equal rights, and ensured that all performers were treated fairly and paid equally.
Though there were ups and downs, Buffalo Bill's Wild West was largely successful. However, the advent of motion pictures and the rise of professional rodeo led to dwindling audiences. Buffalo Bill's Wild West finally closed in 1913, after thirty years touring.
Through his Wild West show, Buffalo Bill has made an indelible imprint upon American history and culture.
Diversidad en el Salvaje Oeste: Los afiches de Buffalo Bill
Pabellón Cultural Boettcher, 2do piso
20 de mayo al 27 de agosto
Este año, 2017, marca los 100 años de la muerte de William F. "Buffalo Bill" Cody en Denver. Para honrar su centenario, Denver Arts & Venues destaca la diversidad de sus grandiosos espectáculos del "Salvaje Oeste" con afiches prestados por la colección del Museo y Tumba de Buffalo Bill en Golden.
Desde sus comienzos en 1883, el papel del Indio Americano fue esencial para el "Salvaje Oeste de Buffalo Bill". Cada año, Buffalo Bill contrataba de 40 a 120 Indios Americanos para su espectáculo, dependiendo del tamaño total de su grupo y de cuán bien le iba al espectáculo.
Las mujeres también tuvieron un papel destacado en el espectáculo "Salvaje Oeste". Un evento popular era la carrera de caballos entre mujeres de tres países: Estados Unidos, España e India. La renombrada experta en tiro al blanco Annie Oakley participó en el "Salvaje Oeste de Buffalo Bill" por 16 años. Ella fue la primera mujer estrella y ayudó a que otras mujeres se sumasen a los rodeos. Durante su tiempo en el show, Annie superó a todos sus desafiantes, hombres o mujeres, en tiro al blanco.
En la década de 1890, el "Salvaje Oeste" comenzó a incorporar actores del Lejano Oriente, agregando así variedad e intriga. Eventualmente, el espectáculo se convirtió en uno de los más populares espectáculos itinerantes en el mundo, empleando actores de todos los continentes (excepto Antártida). Buffalo Bill impulsó derechos igualitarios y se aseguró que todos los actores fuesen tratados adecuadamente y recibiesen pagos equitativos.
A pesar de sus altibajos, el "Salvaje Oeste de Buffalo Bill" fue mayormente un éxito. Sin embargo, la llegada de las películas de cine y el crecimiento de los rodeos profesionales provocaron la disminución de las audiencias. El "Salvaje Oeste de Buffalo Bill" terminó en 1913, luego de 30 años de gira.
Por medio de su "Salvaje Oeste", Buffalo Bill dejó una huella imborrable en la historia y la cultura de Estados Unidos.