exhibitions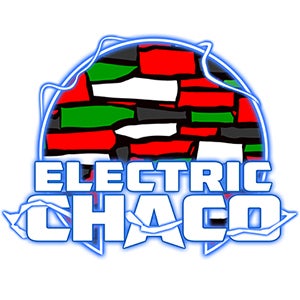 Electric Chaco
07/

17/

2019
-
07/
28/
2019
First Floor
July 17-28
Imagine Chaco Canyon as a vibrant center of trade and imagination, ceremony and celebration, free from the influences of colonization and time. This is Electric Chaco. An artistic reimagining of Chaco Canyon and an exploration of Pueblo Indigenous Futurisms, Electric Chaco engages visitors to think about time, space, culture, community, art, and invention while demonstrating that Indigenous peoples are not relics of the past but are speeding toward a bright and beautiful future.
in conjunction with Indigenous Pop X the weekend of July 27-28
Primer piso
17 al 28 de julio
Imaginemos el Cañón Chaco como un vibrante centro de comercio, con imaginación, ceremonias y celebraciones, sin las influencias de la colonización ni del tiempo. Eso es Electric Chaco (Chaco Eléctrico): una recreación artística del Cañón Chaco, una exploración del futurismo de los indígenas Pueblo. Electric Chaco interactúa con los visitantes, invitándolos a repensar el tiempo, el espacio, la cultura, la comunidad, el arte, y la invención, a la vez que se demuestra que los pueblos indígenas no son una reliquia del pasado, sino que aceleradamente se dirigen hacia un futuro brillante y hermoso.
Muestra a corto plazo en conjunción con el fin de semana de Indigenous Pop X el 27 y 28 de julio