exhibitions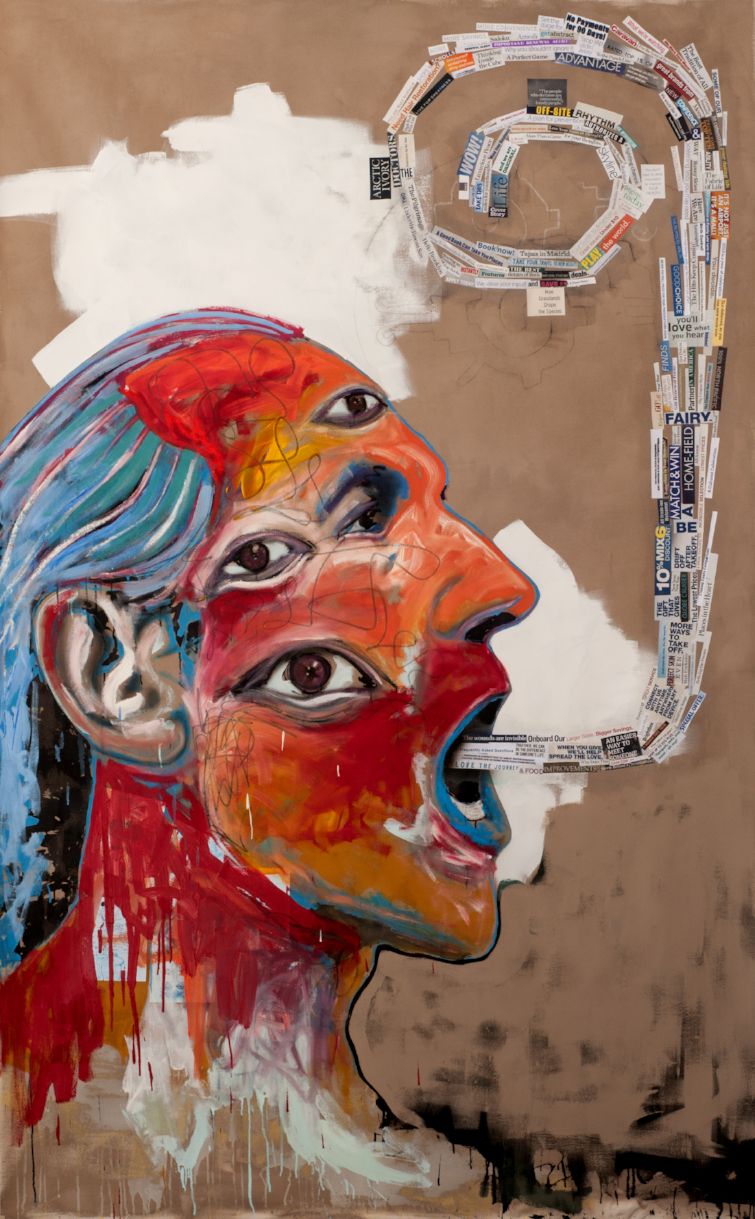 Etlelooaat (Cree) - He who shouts
04/

22/

2018
-
08/
26/
2018
Etlelooaat (Cree) - He who shouts
Third Floor Exhibition
April 22 - August 26
Contemporary multi-disciplinary artist Merritt Johnson, a descendant of the Blackfoot and Kanienkehaka Tribes, writes that most people think of "beads and feathers" when they hear the term "Native American art." Artspace writer Jillian Billard adds, "This pigeonholing, among being immensely generalized and demeaning, fails to acknowledge the unique individual expression between and within Native American communities. There are 567 federally recognized Native American nations in the United States. Amongst those tribes exists a great deal of diversity in culture, language, and elements of day-to-day life. Merging Native American cultures disregards this diversity, and effectually silences American Indian voices." This exhibit reflects the dynamic nature of Native American creativity and the changing realities of life and culture across the Americas. Featured artists include Neal Ambrose-Smith (Salish/Kootenai), Alistair Bane (Shawnee), Jeff Kahm (Plains Cree), Gregg Deal (Pyramid Lake Paiute) and Virgil Ortiz (Cochiti Pueblo) in collaboration with Emilio Lobato, all working in a variety of styles and media. There is an opportunity to hear diversity in Native American voices if we are willing to listen.
---
22 de abril - 26 de agosto
La artista contemporánea y multidisciplinaria Merritt Johnson, descendiente de las tribus Blackfoot y Kanienkehaka, escribe que la mayoría de la gente piensa en "cuencas y plumas" cuando escuchan la expresión "arte nativo americano". La escritora Jillian Billiard, de Artspace, sostiene que "ese prejuicioso reduccionismo, además de ser inmensamente generalizado e irrespetuoso, no reconoce las expresiones individuales únicas entre y dentro de las comunidades de nativos americanos. Existen 567 naciones nativas americanas federalmente reconocidas en Estados Unidos. Entre esas tribus existe una gran diversidad de culturas, idiomas y elementos en la vida diaria. Mezclar las culturas nativas americanas deja de lado esa diversidad y como consecuencia silencia las voces de los indígenas americanos". Esta exhibición refleja la naturaleza dinámica de la creatividad nativa americana y de las cambiantes realidades de la vida y la cultura en las Américas. Entre los artistas incluidos figuran Neal Ambrose-Smith (Salish/Kootenai), Alistair Bane (Shawnee), Jeff Kahm (Plains Cree) y Virgil Ortiz (Cochiti Pueblo) en colaboración con Emilio Lobato, todos ellos trabajando en varios estilos y medios. Esta es una oportunidad para escuchar la diversidad de voces nativas americanas para quienes están dispuestos a escuchar.
Related Events
Giving Voices - June 29, 6 p.m.