exhibitions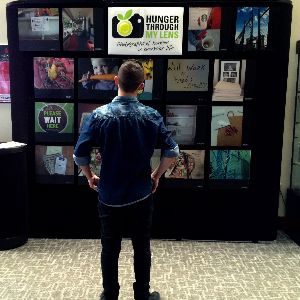 Hunger Through My Lens
10/

01/

2019
-
10/
25/
2019
First Floor Community Gallery
October 1-25
"Hunger Through My Lens," the advocacy and education project created by Hunger Free Colorado, began in 2013 following the photovoice storytelling model. Participants – (22) throughout Colorado – who had experienced hunger were provided digital cameras to document what hunger looked like in their day to day lives. These photos were made into a traveling exhibit to provide a true-to-life visual of the statistics of what hunger really looks like. The "Hunger Through My Lens" project began evolving in 2018 to create a wider platform of voices through photography, video, audio, written-word and virtual reality to continue to de-stigmatize hunger and food access needs while providing a space for those experiencing hunger a place to share their voice and debunk the myths.
In partnership with Denver-based production company, Sora Digital, "Hunger Through My Lens" created a virtual reality experience to add an immersive element to the "Hunger Through My Lens" exhibit. Filmed in a grocery store in Denver, visitors will wear virtual reality goggles for a fly-on-the-wall experience of a true story of what it's like to have the anxiety of grocery shopping on food benefits. Our character, whose situation is purposely left unexplained, experiences an internal dialogue while navigating a grocery store in a new situation - not having enough money for food. Within her dialogue she ponders what she can and cannot afford, what has to wait until "next week", and how to pay for her groceries without utilizing multiple payment methods. The story, written in consultation with a "Hunger Through My Lens" expert, is made to capture the emotional toll that comes with grocery shopping - from the anxiety of "being seen" to constant recalculations of grocery prices prior to reaching the check lane to avoid an "embarrassing conversation" about not having enough to afford food.
The "Hunger Through My Lens" virtual experience is a multi-media exhibit featuring photography, video, audio and virtual reality to provide a journey of what hunger looks like in Colorado.
Virtual Reality: Two visitors will simultaneously be able to experience this five-minute virtual reality film, while holding on to a grocery store shopping cart.
Photography: 20-40 15"x15" original prints from past and current participants will be on display.
Video: The exhibit will also highlight 10-15 video conversations with participants answering the question "how did you get here" regarding hunger; these video conversations are part of a series titled "Conversations of Hunger" offering a candid response to a question many who have not experienced hunger are afraid to ask. Each story can be viewed on an iPad with headphones.
Wall of Words: Visitors will have the opportunity to write one word or sentence about what hunger means to the them prior to experiencing the exhibit; then they will be asked to write one word or sentence about what hunger means to them after experiencing the exhibit. These sheets will be placed on a "wall" which is symbolic of the barriers to food access and how we can all lend a hand to change.
Re:Creative Denver || September 1 - October 31 || satellite exhibit to coincide with two First Friday events in Denver's Santa Fe Art District. Attendees will be asked to write letters on plates addressing the importance of supporting anti-hunger bills or sharing their story of hunger with state legislators. Plates will be stacked to create a visual representation of the barriers to food many Coloradans face daily. Collateral will be present to explain the full exhibit and invite the public to view the exhibit at McNichols Civic Center Building in October.
McNichols Civic Center Building || October 1 - 25 || full exhibit (as listed above) will be on display on the first floor providing a chance for the public, partners, tourists and legislators to visit and learn about the true faces behind the facts of hunger in Colorado. This exhibit is supported by Denver Arts & Venues Cultural Partner Program.
Related events:
Satellite Exhibit, ReCreative Gallery (765 Santa Fe Drive): Sept. 1-Oct. 25
First Friday at ReCreative Gallery (765 Santa Fe Drive): Oct. 4, 6-9 p.m.
El Hambre Retratado por mi Cámara
Primer piso de la Galería Comunitaria
Octubre 1-25
"Hunger Through My Lens" (El Hambre Retratado por mi Cámara), el proyecto de promoción y educación comunitarias creado por Hunger Free Colorado (Colorado Sin Hambre), comenzó en 2013 siguiendo el modelo de narración de audio y fotografías. Los participantes (22 de todo Colorado) habían experimentado el hambre y recibieron cámaras digitales para documentar cómo era el hambre en su vida cotidiana. Esas fotografías se convirtieron en una exhibición itinerante para proporcionar una imagen realista de las estadísticas de cómo se ve realmente el hambre. El proyecto "El Hambre Retratado por mi Cámara" comenzó a evolucionar en 2018 para crear una plataforma más amplia de voces a través de fotografía, video, audio, palabras escritas y la realidad virtual para continuar desestigmatizando las necesidades de hambre y acceso a los alimentos al tiempo que proporciona un espacio para aquellos que experimentan hambre para compartir su voz y desacreditar los mitos.
En asociación con la productora, Sora Digital, con sede en Denver, "Hunger Through My Lens" creó una experiencia de realidad virtual para agregar un elemento inmersivo a la exhibición "Hunger Through My Lens". Filmados en una tienda de comestibles en Denver, los visitantes usarán gafas de realidad virtual para una experiencia instantánea de una historia real de lo que es tener la ansiedad de comprar alimentos en los beneficios de alimentos (estampillas de comida, por ejemplo). Nuestro personaje, cuya situación se deja deliberadamente sin explicación, experimenta un diálogo interno mientras navega por una tienda de comestibles en una nueva situación, sin tener suficiente dinero para comida. Dentro de su diálogo, reflexiona sobre lo que puede y no puede pagar, lo que tiene que esperar hasta la "próxima semana" y cómo pagar sus compras sin utilizar múltiples métodos de pago. La historia, escrita en consulta con un experto en "Hunger Through My Lens", está hecha para capturar el costo emocional que conlleva la compra de comestibles, desde la ansiedad de "ser visto" hasta los constantes recálculos de los precios de los comestibles antes de llegar a la caja para pagar y cómo evitar allí la "conversación vergonzosa" sobre no tener lo suficiente para pagar la comida.
La experiencia virtual " El Hambre Retratado por mi Cámara" " es una exhibición multimedia que presenta fotografías, videos, audio y realidad virtual para proporcionar un viaje de cómo realmente se vivc el hambre en Colorado.
Realidad virtual: dos visitantes podrán experimentar simultáneamente esta película de realidad virtual de cinco minutos, mientras se aferran a un carrito de compras.
Fotografía: se exhibirán 20-40 copias originales de 15"x15" de participantes anteriores y actuales.
Video: La exhibición también incluirá entre 10 y 15 conversaciones en video con los participantes respondiendo a la pregunta "¿Cómo llegaste aquí?" (con respecto al hambre). Estas conversaciones en video son parte de una serie titulada "Conversaciones del hambre" que ofrece una respuesta sincera a una pregunta que muchos que no han experimentado hambre tienen miedo de hacer. Cada historia se puede ver en un iPad con auriculares.
Muro de palabras: los visitantes tendrán la oportunidad de escribir una palabra u oración sobre lo que el hambre significa para ellos antes de experimentar la exhibición; luego se les pedirá que escriban una palabra u oración sobre lo que significa el hambre para ellos después de experimentar la exhibición. Estas hojas se colocarán en una "pared" que simboliza las barreras para el acceso a los alimentos y cómo todos podemos echar una mano para cambiar.
Re:Creative Denver || 1 de septiembre - 31 de octubre || La exhibición satelital coincidirá con dos eventos del primer viernes en el Distrito de Arte de Santa Fe en Denver. Se les pedirá a los asistentes que escriban cartas en tableros que aborden la importancia de apoyar los proyectos de ley contra el hambre o compartir su historia de hambre con los legisladores estatales. Los tableros se apilarán para crear una representación visual de las barreras a la comida que enfrentan muchos habitantes de Colorado todos los días. Habrá material adicional para explicar la exhibición completa e invitar al público a ver la exhibición en el Edificio "McNichols" del Centro Cívico en octubre.
Edificio "McNichols" del Centro Cívico || Octubre 1 - 25 || La exhibición completa (como se menciona arriba) estará en el primer piso, brindando una oportunidad para que el público, socios, turistas y legisladores visiten y conozcan los verdaderos rostros detrás de las estadísticas del hambre en Colorado. Esta exhibición está respaldada por el Programa de Socios Culturales de Denver Arts & Venues.
Evento relacionado:
Exhibición Satélite, ReCreative Gallery (765 Santa Fe Drive): Sept. 1-Oct. 25
Primer Viernes en la ReCreative Gallery (765 Santa Fe Drive): Oct. 4, 6-9 p.m.