exhibitions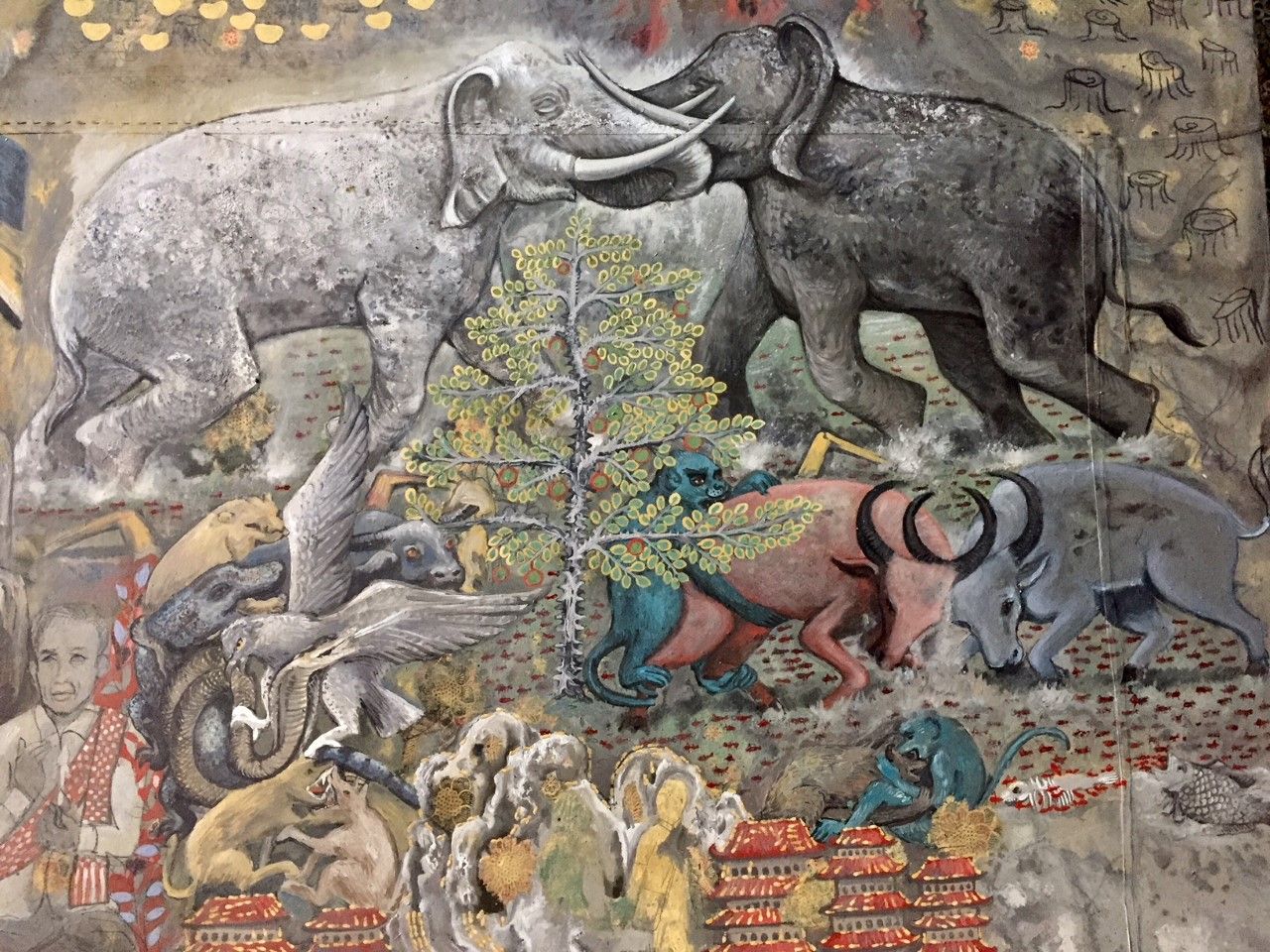 Leang Seckon: Prophecy
03/

22/

2019
-
05/
31/
2019
First Floor
Leang Seckon was born in Prey Veng province, Cambodia, in the early 1970s and lived during a time of genocide perpetrated by the ruling Khmer Rouge. His artwork often reflects this fraught history, so much so that his 2014 solo exhibition at Rossi & Rossi in London was titled Hell on Earth. His paintings are often multi-layered, both literally and symbolically. He uses cut-outs to create deep patterning and shadows within the canvas; the resulting effect is visually stunning. His paintings and collages bring unlikely figures together: kings from Cambodia's past empires sit aside modern global political leaders. The exhibition at McNichols Civic Center Building brings together a dozen of Seckon's latest endeavors, including paintings, collages and installed mixed-media works. The exhibition is guest curated by Sarah Magnatta.
Related events: Opening Reception March 22, 6 p.m.
Primer piso
Leang Seckon nació en la provincial de Prey Veng, Camboya, a principios de la década de 1970 y vivió en el momento del genocidio perpetrado por el gobernante Khmer Rouge. Sus obras de arte con frecuencia reflejan esa aterradora historia y lo hacen de tal manera que su exhibición en la galería Rossi & Rossi en Londres en 2014 se tituló Infierno en la Tierra. Sus pinturas frecuentemente incluyen varias capas, tanto literal como simbólicamente. Usa recortes para darle profundidad a los patrones y a las sombras sobre el lienzo, con resultados visualmente asombrosos. Sus pinturas y collages combinan improbables figuras: los reyes de los antiguos imperios en Camboya aparecen junto a líderes políticos modernos. La muestra en el Edificio "McNichols" del Centro Cívico incluye una docena de las más recientes creaciones de Seckon, como pinturas, collages y obras con medios mixtos. Sarah Magnatta es la curadora invitada de la exhibición.
Evento relacionado: Recepción de Apertura 22 de marzo a las 6 p.m.