exhibitions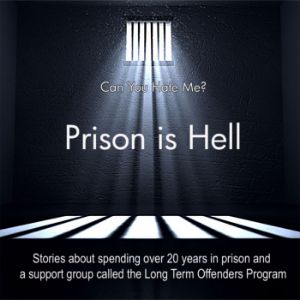 Listen - a virtual experience
07/

13/

2020
-
01/
03/
2021
Listen    
Virtual Exhibition
July 13-Sept. 30, 2020
 "Human life depends on the stories we tell."
~Jack Zipes, The Cultural Evolution of Storytelling and Fairy Tales, 2012
"Listen" brings discovery and intrigue to McNichols Civic Center Building website through a virtual experience. Originally designed as a classic telephone booth transformed into a listening station, participants can listen to authentic stories recorded from often voiceless and invisible members of our community.
The first series of stories is told by men who spent 20 + years in prison. The men shared intimate and brutally honest stories about their childhoods, crimes, surviving prison and attempting to create 'normal' lives after their return to society.
As a sociologist and ex-counselor, creator Maureen Hearty has heard many stories of perseverance and defeat. These stories taught her that all people are worthy of respect, and capable of insightful life philosophies that teach us about empathy and gratitude, no matter who they are and what they've done. She aimed to bring these unseen people and their unheard stories, that are full of perspective-bending experiences, into the common realm of the people's history, to encourage empathy for others while enlightening our own self-awareness.
"Listen" is supported by Denver Arts & Venues Cultural Partner Program. 
Listen to their stories.
Maureen: Can You Hate Me? An Introduction to the Collection of Long-Term Offender Program Stories 
Diablo Montalban: Prison is Hell
Dianne, Colorado CURE – Citizens United for Rehabilitation of Errants: How I Got Involved
Ricky: Need Support Getting Out - Short version, Full-length version
Pablo: Prison Time - Short version, Full-length version
Matty: Stolen Dime - Short version, Full-length version
Habe: First Crime at 5 - Short version, Full-length version
Disco: The Lady in Blue - Short version, Full-length version
Gary: Freedom is a Choice - Short version, Full-length version
Listen
Exhibición virtual
13 de julio al 30 de septiembre de 2020
                   
 "La vida humana depende de las historias que contamos."
~Jack Zipes, The Cultural Evolution of Storytelling and Fairy Tales, 2012 
"Listen" ("Escuchar") aporta descubrimiento e intriga al sitio web del Edificio "McNichols" del Centro Cívico a través de una experiencia virtual. Originalmente diseñado como una cabina telefónica clásica transformada en una estación de escuchar, los participantes pueden escuchar historias auténticas grabadas de miembros a menudo invisibles y sin voz de nuestra comunidad.
La primera serie de historias es contada por hombres que pasaron más de 20 años en prisión. Los hombres compartieron historias íntimas y brutalmente honestas sobre su infancia, crímenes, sobrevivir en prisión e intentar crear vidas "normales" en la sociedad.
Como socióloga y exconsejera, la creadora Maureen Hearty ha escuchado muchas historias de perseverancia y derrota. Estas historias le enseñaron que todas las personas son dignas de respeto y capaces de filosofías de vida perspicaces que nos enseñan sobre la empatía y la gratitud, sin importar quiénes son y lo que han hecho. Su objetivo era llevar a estas personas invisibles y sus historias no escuchadas, que están llenas de experiencias que transforman la perspectiva, al ámbito común de la historia de las personas, para alentar la empatía por los demás y al mismo tiempo iluminar nuestra propia conciencia.
"Listen" cuenta con el apoyo del Programa de Asociados Culturales de Denver Arts & Venues