exhibitions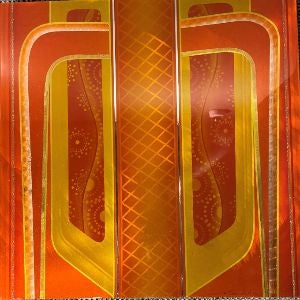 Polished: The "Candy Coated" Works of Sonny Valdez
07/

07/

2023
-
08/
27/
2023
Polished: The "Candy Coated" Works of Sonny Valdez
McNichols Civic Center Building First Floor
July 7-Aug. 27, 2023
Denver artist Moses "Sonny" Valdez established his artistic roots over the course of more than 25 years working as a custom automotive painter. With brushed metal as his canvas, automotive paint as his medium and imagination seeding his artistic dreams, Sonny Valdez creates contemporary abstract works of art that are hard to restrict to a certain genre. 
Born and raised in Denver, Valdez grew up with a tinkerer's love of cars. As a younger man, he opened an auto body shop with friends, but eventually found himself on his own. Faced with the prospect of sinking or swimming, Valdez soon made custom painting a steady part of his repertoire. The skill grew and so did the number of customers. 
His passion for cars and talent as a custom painter kept him in business for many years, and his award-winning custom painted cars have been featured in national automotive magazines.
Now, Valdez works on pieces of brushed metal, etching unique patterns onto them with grinding tools and finishing them with "candy coated" shades of automotive paint. In addition to metal surfaces, he also paints on wood and acrylic plexiglass.
This series of metal works on display at the McNichols Civic Center Building are rich in color and have a glow about them. Visitors will appreciate this automotive technique in a new form. 
Related Events:
July 29 and 30, 10 a.m.-4 p.m.: FashionAbility Vendor Fair
Aug. 26, 1-4 p.m.Closing Exhibit Reception
Aug. 27, 1-5 p.m.: 5th Annual La Raza Park Day and Cruise
Pulido: Las obras "recubiertas de caramelo" de Sonny Valdez
Primer piso del Edificio "McNichols" del Centro Cívico 
7 julio al 27 de agosto de 2023
El artista de Denver Moses "Sonny" Valdez estableció sus raíces artísticas en el transcurso de más de 25 años trabajando como pintor de automóviles personalizados. Con el metal cepillado como lienzo, la pintura automotriz como medio y la imaginación sembrando sus sueños artísticos, Sonny Valdez crea obras de arte abstractas contemporáneas que son difíciles de restringir a un género determinado.
Nacido y criado en Denver, Valdez creció con un amor por los autos de un manitas. Cuando era más joven, abrió un taller de carrocería con amigos, pero finalmente se encontró solo. Ante la perspectiva de hundirse o nadar, Valdez pronto convirtió la pintura personalizada en una parte constante de su repertorio. La habilidad creció y también el número de clientes.
Su pasión por los autos y su talento como pintor personalizado lo mantuvieron en el negocio durante muchos años, y sus galardonados autos personalizados pintados han aparecido en revistas automotrices nacionales.
Ahora, Valdez trabaja en piezas de metal cepillado, grabando patrones únicos en ellas con herramientas de esmerilado y terminándolas con tonos de pintura automotriz "recubiertos de caramelo". Además de superficies metálicas, también pinta sobre madera y plexiglás acrílico.
Esta serie de obras de metal que se exhiben en el edificio del Centro Cívico McNichols son ricas en color y tienen brillo. Los visitantes apreciarán esta técnica automotriz en una nueva forma.
Eventos relacionados:
29 y 30 de julio, de 10 a. m. a 4 p. m.: Feria de proveedores de FashionAbility
26 de agosto, de 1 p. m. a 4 p. m. Recepción de exhibición
27 de agosto, de a p.m. a 5 p.m. : 5to Día Anual del Parque La Raza y crucero de carros bajitos