exhibitions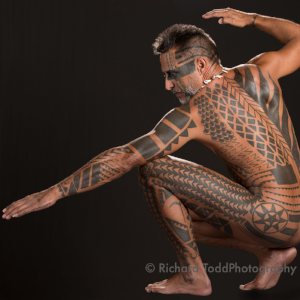 Street Art Ink: From the Body to the Wall
09/

20/

2018
-
01/
06/
2019
Third Floor
September 20, 2018 – January 6, 2019
Street Art Ink: From the Body to the Wall explores the intersection of tattoo and mural art. Denver artists Casey Kawaguchi and Sandi Calistro transform the third floor of the McNichols Civic Center Building with impactful murals inspired by tattoo art and honoring the tattoo tradition. Kawaguchi's bold mural style is unmistakably influenced by his Japanese heritage and the rich history of tattooing in Japan. Sandi Calistro, a tattoo artist and muralist, transforms what she considers the "most intimate form of art" to a larger than life image that still captures the emotional and personal aspect of permanent body art. The work of body art photographer Richard Todd from Los Angeles captivates and engages his audience highlighting the beauty of this magnificent art form. His images of people wearing art by some of the best tattoo artists from around the globe have been featured in publications worldwide and can be found in numerous museum collections in the United States, Europe and Asia. He continues to be a major contributing photographer for Tattoo Life Magazine.
Exhibit-related programming will include a runway show of 20 tattoo models. Seymon Gurule, the featured fashion designer, will be working to unify the models in hair, makeup and attire to fully highlight each model's tattoos. Special guest emcee TBA.
Related Events:
McNichols Project: Sept. 20, 6-9 p.m.
Street Art Ink Runway Show: Oct. 25, 6-9 p.m.
Exhibition Viewing Times
Monday – Friday: 9 a.m. to 5 p.m.
Saturday – Sunday: 10 a.m. to 3 p.m.
Access to art exhibitions may be restricted due to private events. Please call 720-865-5570 ahead for availability or to make an appointment.
Tinta y Arte Callejero: Desde el cuerpo al muro
3º piso
Septiembre 20, 2018 – Enero 6, 2019
Street Art Ink: From the Body to the Wall (Tinta y Arte Callejero: Desde el cuerpo al muro) explora la intersección de tatuajes y murales. Las artistas de Denver Casey Kawaguchi y Sandi Calistro transforman el tercer pisto del "McNichols" del Centro Cívico con impactantes murales inspirados en tatuajes artísticos que homenajean la tradición del tatuaje. El audaz estilo mural de Kawaguchi está sin dudas influenciado por su tradición cultural japonesa y por la rica historia de tatuajes en Japón. Sandi Calistro, muralista y artista de tatuajes, transforma lo que ella considera "la más íntima forma de arte" en imágenes de gran tamaño que de todos modos capturan los aspectos emocionales y personales del arte corporal permanente. La obra de arte corporal del fotógrafo Richard Todd de Los Ángeles cautiva y atrapa su audiencia al destacar la belleza de esta magnificente forma de arte. Sus imágenes de personas llevando en sus cuerpos el arte de algunos de los mejores tatuadores del mundo han sido incluidas en publicaciones de todo el mundo y se encuentran en numerosas colecciones de museos en Estados Unidos, Europa y Asia. Todd continúa realizando importantes contribuciones fotográficas a Tattoo Life Magazine.
Los programas relacionados con esta exhibición incluyen un desfile con 20 modelos tatuados. La destacada diseñadora de modas Seymon Gurule se encargará de unificar el estilo de los peinados, maquillajes y vestimenta de los modelos para que resalten los tatuajes. Un invitado especial será el presentador (o presentadora) del desfile.
Horario de la exhibición
Lunes a viernes: 9 a.m. a 5 p.m.
Sábados y domingos: 10 a.m. a 3 p.m.
El acceso a las exhibiciones de arte puede restringirse en caso de eventos privados. Por favor, llamar al 720-865-5570 con anticipación para verificar el acceso o para concertar una cita.
McNichols Project: Septiembre. 20, 6-9 p.m.
Desfile: Octubre 25, 6-9 p.m.