"Eternal Return" Tour and Discussion
McNichols Building
05/18/2023 · 12:00PM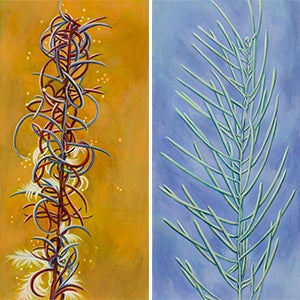 Join Shanna Shelby, curator of exhibitions for Denver Arts & Venues, and artists Trine Bumiller and Erika Osborne for a tour and discussion of "Eternal Return" on display at McNichols Civic Center Building May 8-June 2, 2023.
This event is free and open to the public, and offered through either a virtual or in-person format. Please register in order to get a link and instructions to join the discussion, and select the format you are interested in (virtual or in person). Presented in conjunction with 2023 American Alliance of Museums Annual Meeting & MuseumExpo.
Want to know more about events like this? Sign up for our mailing list at https://signup.artsandvenuesdenver.com/denver-arts-and-venues.html
For Spanish or other Interpretation Services: Amber.Fochi@denvergov.org
For Sign Language Interpreter or Cart Services: signlanguageservices@denvergov.org
For Other Disability Accommodations: disabilityaccess@denvergov.org
About the Exhibition
The philosophy of Eternal Return centers on the notion that time, events and even matter repeat themselves in an infinite loop – reoccurring in the same way in the past as they do in the present and will infinitely into the future. Inherent to this concept is the continuous cycle of destruction and rebirth. Trine Bumiller and Erika Osborne approach the occurrence of wildfire in the West from this standpoint. Although recent wildfires have been catastrophic, scorching the soil and destroying all plant life as they travel through, only moments pass before regrowth and renewal return to the forest floor, repeating a cycle that has been part of the ecology of western forests for millennia.
Trine Bumiller's works come out of direct observation of the landscape after these cataclysmic events - both the brutal reality of burnt trees in winter along with colorful new growth and regeneration in the seasons that follow. Erika Osborne sees fire as a restorative mechanism in forest ecosystems. By directly observing and learning from burnt forests in the West, Erika's work embraces wildfire as an alternative remedy for forests in need of healing. Together their work reconciles the fear humans associate with wildfire by attempting to replace it with respect and understanding for an ecological process that is both miraculous and vital.