exhibitions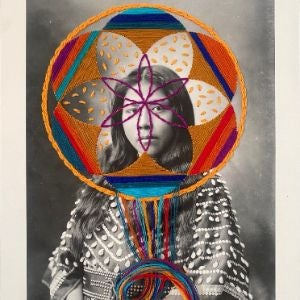 Community Cloth
09/

15/

2023
-
01/
14/
2024
Community Cloth
McNichols Civic Center Building, Second Floor, Boettcher Cultural Pavilion
Sept. 15, 2023 - Jan. 14, 2024
Exhibition Hours: Open Daily 10 a.m.-4 p.m. unless otherwise noted on the calendar. 
This exhibition highlights contemporary artists and current designs being created with fiber and textiles. This group show will feature innovation in the very tangible artforms of cloth, fabric, fiber, thread and yarn. Unique to this artform is the tactile nature, not only in the creation, but also in the experience of the artwork. While a sculptor creates in a very tactile manner, a viewer of the final artwork is not typically expected to handle the sculpture. Fiber art, on the other hand, is best experienced not only through sight, but also through contact; fabric, rugs, clothing and upholstery are meant to be touched as well as seen.
This multi-media group show features worldwide artists who are innovative in incorporating fiber arts into video, painting, sculpture, progressive fashion, costume design and more.
About the Artists
Liv Aanrud
Liv Aanrud earned her Bachelor of Fine Arts with a painting emphasis from the University of Wisconsin-Eau Claire in 2001. She was awarded a full scholarship and teaching fellowship at Mason Gross School of the Arts at Rutgers University, where she received her Master of Fine Arts in 2011. She has taught at ARTworks Charter School, at Santa Barbara City College, and was awarded a teaching fellowship at the Armory Center for the Arts in Pasadena. Her works have been presented in solo and group exhibitions across the U.S. as well as in Taiwan, Germany and Spain.
Rachael Levine
Textiles artist and fashion designer with a focus on Shibori fabric dyeing and textile manipulation, Rachael Levine has been a working artist since 2014, after graduating with her BFA in Fashion Design from Columbia College Chicago. Her love of clothing construction and manipulating textiles has blossomed into an ever-changing art-to-wear collection. The brand name ARAE is a play on words, deriving from Rachael's nickname, Rae, and the word 'array' - an impressive display of things. Under her brand, she prioritizes zero waste design, and works with different kinds of silk and wool.
Victoria Villasana
Victoria Villasana (b. Guadalajara, Mexico) is a textile, installation and street artist. Her work primarily explores interconnection. Among her themes are the visionaries creating positive change throughout history, pop culture, social causes, and our reconnection with nature. Through pattern, geometry and color, she weaves intricate visual stories which reflect the resilience and triumph of the human spirit. She currently divides her time between Mexico and England, and continues to explore her medium through installation, social projects, editorial work and collaborations with artists, brands and galleries worldwide.
Melanie Walker
Melanie Walker has been a practicing artist for more than 50 years. Her expertise is in alternative photographic processes, digital and mixed media, as well as large-scale photographic installations and, more recently, public art. She attended San Francisco State University for a Bachelor's Degree in Art and Florida State University for a Master's in Fine Arts. She has received multiple awards, including an NEA Visual Arts Fellowship, Colorado Council on the Arts Fellowship and an Aaron Siskind Award. She's taught at several universities, including San Francisco State University, SUNY Albany, Alfred University and the University of Kentucky, Lexington. She is professor emeritus in Integrated Media Arts at University of Colorado Boulder. 
Rachael Wellisch
Rachael Wellisch is an Australian artist using natural indigo dye, textiles and installation in response to environmental concerns. Graduating with a Bachelor of Fine Art with Honours in 2016 from Griffith University (Brisbane, QLD), she received awards for academic excellence, including 'Fine Art Student of the Year' in 2011. She is currently a post-confirmation doctoral candidate at Griffith University. Winner of the St Andrew's War Memorial Hospital Art Prize (QLD) in 2016, and Recycle Rework Remake (NT) in 2021, she has been selected and commended in multiple national and international art awards. She has undertaken artist residencies in Shankill Castle, Ireland, House Conspiracy in Brisbane, and Art Quarter Budapest. Rachael has exhibited in Australia, Japan and Europe, and her work is in collections in Australia, UK, France and Ireland.
Related Events
Opening Reception – Sept. 14, 5-7 p.m.
Open Casting Call – Sept. 16, 1-3 p.m.
Denver Arts & Venues Community Impact Day – Oct. 8, 1-4 p.m.
Denver Arts & Venues Cultural Runway: Community – Oct. 14, doors 5 p.m., runway show 8 p.m.
Tour and Discussion – Nov. 7, noon, in conjunction with Denver Arts Week
Community Cloth (Tejidos de la comunidad)
Edificio "McNichols" del Centro Cívico, Pabellón Cultural Boettcher
Del 15 de septiembre al 14 de enero de 2024
Esta exposición destaca a los artistas contemporáneos y los diseños actuales que se crean con fibras y textiles. Esta exposición colectiva presentará la innovación en las formas artísticas tangibles de la tela, los tejidos, las fibras, el hilo y el estambre. Esta forma de arte es única por su naturaleza táctil, no sólo en la creación, sino también en la experiencia de la obra. Aunque un escultor crea de forma muy táctil, por lo general no es habitual que el espectador de la obra de arte final toque la escultura. El arte de las fibras, por su parte, se experimenta mejor no sólo a través de la vista, sino también mediante el tacto; telas, alfombras, prendas de vestir y tapicerías se tocan además de verse.
Esta exposición colectiva multimedia presenta a artistas de todo el mundo que son innovadores en la incorporación de las artes de las fibras al video, la pintura, la escultura, la moda de vanguardia, el diseño de vestuario y mucho más.
Acerca de los artistas
Liv Aanrud
Liv Aanrud obtuvo su título en la especialidad de pintura en Bellas Artes en la Universidad de Wisconsin-Eau Claire en 2001. Obtuvo una beca completa y una beca de enseñanza en Mason Gross School of the Arts de la Universidad de Rutgers, donde recibió su Máster en Bellas Artes en 2011. Ha impartido clases en ARTworks Charter School y en Santa Barbara City College, y obtuvo una beca de enseñanza en el Armory Center for the Arts de Pasadena. Sus obras se han presentado en exposiciones individuales y colectivas en Estados Unidos, Taiwán, Alemania y España.
Rachael Levine
Artista textil y diseñadora de moda con un enfoque en el teñido de telas Shibori y la manipulación textil, Rachael Levine ha sido una artista activa desde 2014, después de graduarse con su BFA en Diseño de Moda de Columbia College Chicago. Su amor por la confección y la manipulación de tejidos se ha convertido en una colección de arte para vestir en constante evolución. El nombre de la marca, ARAE, es un juego de palabras derivado del apodo de Rachael, Rae, y de la palabra "array", palabra que en inglés significa un impresionante despliegue de cosas. En su marca, prioriza el diseño de residuo cero, y trabaja con diferentes tipos de seda y lana.
Victoria Villasana
Victoria Villasana (Guadalajara, México) es una artista textil, de instalaciones y callejera. Su obra explora principalmente la interconexión. Entre sus temas destacan los visionarios que han creado cambios positivos a lo largo de la historia, la cultura pop, las causas sociales y nuestra reconexión con la naturaleza. A través del dibujo, la geometría y el color, teje intrincadas historias visuales que reflejan la resistencia y el triunfo del espíritu humano. Actualmente divide su tiempo entre México e Inglaterra, y continúa explorando su medio a través de instalaciones, proyectos sociales, trabajo editorial y colaboraciones con artistas, marcas y galerías de todo el mundo.
 
Melanie Walker
Melanie Walker es artista desde hace más de 50 años. Es experta en procesos fotográficos alternativos, medios digitales y mixtos, así como en instalaciones fotográficas a gran escala y, más recientemente, en arte público. Se licenció en Arte en la Universidad Estatal de San Francisco y obtuvo un máster en Bellas Artes en la Universidad Estatal de Florida. Ha recibido numerosos premios, entre ellos una beca NEA de Artes Visuales, una beca del Consejo de las Artes de Colorado y un premio Aaron Siskind. Ha enseñado en varias universidades, como la Universidad Estatal de San Francisco, SUNY Albany, la Universidad Alfred y la Universidad de Kentucky, Lexington. Es profesora emérita de Artes audiovisuales integradas en la Universidad de Colorado Boulder. 
Rachael Wellisch
Rachael Wellisch es una artista australiana que utiliza tintes naturales de añil, tejidos e instalaciones en respuesta a preocupaciones ambientales. Licenciada en Bellas Artes con matrícula de honor en 2016 por la Universidad Griffith (Brisbane, QLD), recibió premios a la excelencia académica, entre ellos el de "Estudiante de Bellas Artes del Año" en 2011. Actualmente es doctoranda en la Universidad Griffith. Ganadora del St Andrew's War Memorial Hospital Art Prize (QLD) en 2016, y del Recycle Rework Remake (NT) en 2021, ha sido seleccionada y elogiada en varios premios de arte nacionales e internacionales. Ha realizado residencias artísticas en Shankill Castle (Irlanda), House Conspiracy (Brisbane) y Art Quarter Budapest. Rachael ha expuesto en Australia, Japón y Europa, y sus obras figuran en colecciones de Australia, Reino Unido, Francia e Irlanda.
Eventos relacionados
Recepción inaugural - 14 de septiembre, de 5.00 a 7.00 p.m.
Casting abierto - 16 de septiembre, de 1.00 a 3.00 p.m.
Día del impacto comunitario del arte y lugares de Denver - 8 de octubre, de 1.00 p.m. a 4.00 p.m.
Pasarela cultural del arte y lugares de Denver: Comunidad - 14 de octubre, 5 p.m., pasarela 8 p.m.
Tour y debate: 7 de noviembre al mediodía, junto con la Semana de las Artes de Denver