exhibitions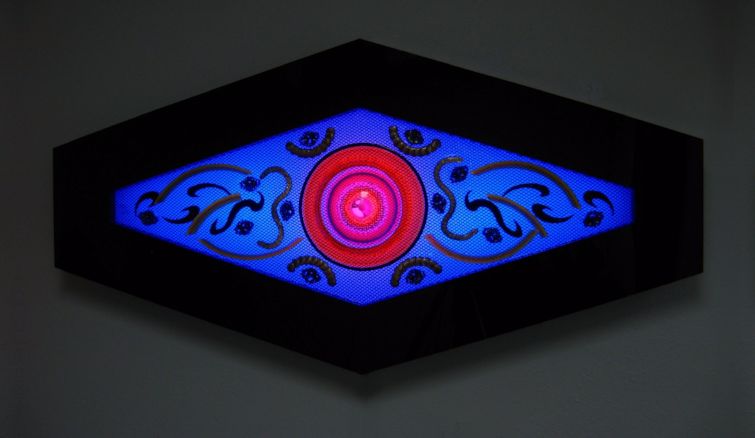 Lumonics Mind Spa
01/

13/

2018
-
07/
15/
2018
Lumonics Mind Spa
Stretching the Body, Mind and Spirit
First Floor
January 13 – July 15, 2018
The Lumonics Mind Spa is a site-specific art installation by Dorothy Tanner created for the McNichols Civic Center Building first floor community exhibition space. It features light sculptures by Dorothy and the late Mel Tanner, and music and video by Dorothy Tanner and Marc Billard.
Dorothy's intention for this meditative environment is for everyone to experience new ways to stretch the body, expand the mind, and achieve greater spiritual awareness.
Exhibition Viewing Times
Monday – Friday: 9 a.m. to 5 p.m.
Saturday – Sunday: 10 a.m. to 3 p.m.
Access to art exhibitions may be restricted due to private events. Please call 720-865-5570 ahead for availability or to make an appointment.
Related events:
Buddha Bomb - Feb. 2, 7:30-11 p.m.
Sunday Sanctuary - Feb. 4, March 4, April 1, 11 a.m. - 6 p.m.
Arts & Minds - Tuesdays, Feb. 6 - May 22, 4-6 p.m.
Enneagram Yoga Workshop - Tuesdays, Feb. 13 - March 20, 6:30-8:30 p.m.
Deep Peace - Feb. 17, 7:30 p.m.
McNichols Project - Feb. 23, 6-9 p.m.
Tao of Dance - March 3, 7:30 p.m.
Think Like a Genius Metaphorming Workshop - March 24, 10 a.m.
Desert Dwellers, Random Rab, Alex and Allyson Grey, Android Jones - May 24, 7:30 p.m.
Neurosculpting - April 7, 10 a.m.
The Triad Presented by Moxie Collective - April 12, 6 p.m.
Lumonics Lil Sum'n Sum'n - April 21
An Evening of Kirtan - May 12, 7:30 p.m.
Scarlet Nights - May 24, 6:30 p.m.
Giving Voices - June 29, 6 p.m.
Lumonics Event: Gravity - July 7, 7:30 p.m.
Andy Babb and the Big Beautiful Band - July 14, 7:30 p.m.
Lumonics Mind Spa
Ampliando el cuerpo, la mente y el espíritu
Enero 13 – Julio 15, 2018
Lumonics Mind Spa es una instalación de arte creada por Dorothy Tanner específicamente para el espacio de exhibiciones comunitarias del Edificio "McNichols" del Centro Cívico. La instalación incluye esculturas de luz por Dorothy y por el ya fallecido Mel Tanner, así como música y videos por Dorothy Tanner y Marc Billard.
La intención de Dorothy fue crear un espacio de meditación para que todos experimenten nuevas maneras de ampliar el cuerpo, expandir la mente y lograr una consciencia espiritual más profunda.
Horario de la exhibición
Lunes a viernes: 9 a.m. a 5 p.m.
Sábados y domingos: 10 a.m. a 3 p.m.
El acceso a las exhibiciones de arte puede restringirse en caso de eventos privados. Por favor, llamar al 720-865-5570 con anticipación para verificar el acceso o para concertar una cita.