exhibitions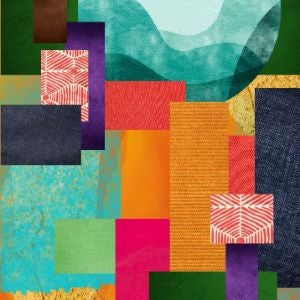 Vibrant Accessibility
06/

08/

2023
-
08/
27/
2023
Vibrant Accessibility
McNichols Civic Center Building, Second Floor, Boettcher Cultural Pavilion
June 8 - Aug. 27, 2023
"Vibrant Accessibility" is a group show featuring artists Chloé Duplessis, Melanie Walker and John Bramblitt. Each artist creates accessible artwork, especially for low vision and blind audiences.
ABOUT THE ARTISTS
Texas artist John Bramblitt, who is blind, taught himself to paint using raised lines to help him find his way around the canvas, and through something called haptic visualization, which enables him to "see" his subjects through touch.
Chloé Duplessis is a legally blind artist, curator and historian based in Metro Denver. She creates art and immersive experiences that elevate accessibility, equity and healing. Chloé is also the creator of Denver's first accessible 'I VOTED" sticker that incorporates braille, sign language and low vision friendly colors.
Boulder artist and University of Colorado professor Melanie Walker lives with double vision and has been legally blind in one eye since birth. Melanie creates work that is dimensional, tactile, haptic and multi-sensory. Her new body of work is a collaboration with her father's photographic art, layered with her own artwork, and printed on silk fabric.
Related Events
Open Casting Call - May 20, 1-4 p.m.
Opening Tour, Reception and Discussion - June 16, 4-7 p.m.
FashionAbility Vendor Fair - July 29 and 30, 10 a.m.-4 p.m.
Denver Arts & Venues Cultural Runway Series: FashionAbility - July 29, 7 p.m.
FashionAbility Impact Day workshops - July 30, 9 a.m.-4:40 p.m.
"Vibrant Accessibility" (Accesibilidad vibrante)
Edificio "McNichols" del Centro Cívico, Pabellón Cultural Boettcher
8 de junio - 27 de agosto de 2023
"Vibrant Accessibility" (Accesibilidad vibrante) es una muestra colectiva con los artistas Chloé Duplessis, Melanie Walker y John Bramblitt. Cada artista crea obras de arte accesibles, especialmente para personas ciegas y con baja visión.
SOBRE LOS ARTISTAS
El artista de Texas John Bramblitt, que es ciego, aprendió a pintar por sí mismo usando líneas resaltadas para ayudarlo a encontrar su camino alrededor del lienzo, y a través de algo llamado visualización háptica, que le permite "ver" a sus sujetos a través del tacto.
Chloé Duplessis, residente en la zona de Denver, es una artista, curadora e historiadora legalmente ciega. Ella crea obras de arte y experiencias inmersivas que elevan la accesibilidad, la equidad y la curación. Chloé también es la creadora de la primera calcomanía accesible "YO VOTE" de Denver que incorpora braille, lenguaje de señas y colores amigables para personas con baja visión.
Melanie Walker, artista residente en Boulder y profesora de la Universidad de Colorado, vive con visión doble y ha estado legalmente ciega de un ojo desde su nacimiento. Melanie crea un trabajo dimensional, táctil, háptico y multisensorial. Su nuevo conjunto de obras es una colaboración con el arte fotográfico de su padre, superpuesto con su propia obra de arte e impreso en tela de seda.
Evento relacionado:
Casting de modelos - 20 de mayo, de 13 a 16 h.
Gira de apertura, recepción y debate - 16 de junio, de 16 a 19 h.
Serie de Pasarelas Culturales de Arts & Venues: FashionAbility - 29 de julio, 19 h.
Feria de proveedores de FashionAbility - 29 y 30 de julio, de 10 a. m. a 4 p. m.:
FashionAbility Talleres del Día del Impacto - 30 de Julio, de 9:30 a.m. a 4:40 p.m.